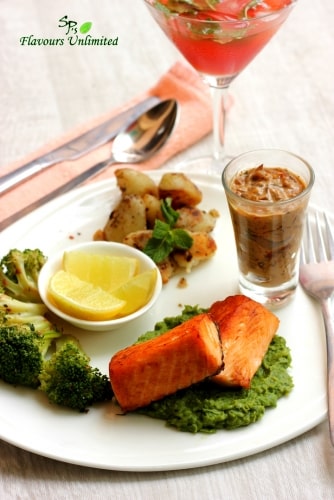 Salmon With Creamy Mushroom Sauce
21 January, 2017
A dish that is delicious and made with food that heals and keeps you healthy. Why You Must eat Mushroom : Very low in calories, yet packed with meaty flavours and contain substances that may enhance the immune system and slow tumor growth. Why You Must eat Broccoli: It is an excellent source of antioxidant, being rich in Vitamin C and is also an excellent source of Calcium and Vitamin K. And one cup of cooked broccoli has more Vitamin C than a fresh orange. Vitamin C enhances iron absorption making the lightly cooked broccoli an ideal companion for iron rich poultry. Why You must eat Salmon : Salmon is one of the healthiest fish which is very high in omega 3 fatty acid. It comes under the super food category.
Ingredients
Salmon Fish fillets

250

gm

mushroom cut into medium size pieces

2

onions very finely chopped

Loads of garlic

the more the better

Fresh rosemary

1

tbsp

butter

1

cup

milk

1/3

rd cup heavy cream

1/2

cup

milk

1/3

rd cup grates cheese

optional

Freshly ground pepper

Salt to taste

2

tsp

oil​
Instructions
Heat butter in a pan. Cook onions and chopped garlic till it turns brown.

Add mushrooms and cook on medium flame till mushrooms are cooked nicely and there is no water left in the pan.

Add milk, cream and grated cheese.

Add rosemary and freshly ground pepper.

Check seasoning and adjust accordingly.

Mushroom Sauce is ready

Shallow Fry Salmon fillets in oil. Sprinkle little salt (very little)

Steam some broccoli florets and shallow fry with butter, garlic, salt, pepper and italian seasoning mix.

For the roasted potatoes: ​Take some new small baby potatoes and wash and scrub nicely to remove any trace of dust.Cut them into half and boil in salt water for 6 to 7 minutes.Roast in a preheated oven at 220 degree centigrade with some rosemary

For the green peas mash :Boil some green peas in water.Blend to a smooth paste. Add some sour cream, salt and pepper.Arrange everything in a plate and enjoy your spa meal.