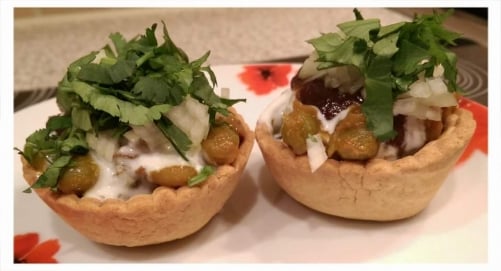 Baked Katori Chaat
12 May, 2018
A spicy Indian chaat always lightens the mood, isn't it ?? An Indian chaat with a twist... Presenting "Baked Katori Chaat ", Yesss... spicy chaat with masala aloo, matar, chutneys anddddd baked Katori... yummmmm.....
Ingredients  
For the Katori :

Flour

maida - 1.25 cups

Butter - 1/2 cup

Ice water - 3 tbsp

Salt

For the green batana curry :

Boiled green batana - 1/2 cup

Chopped onion - 1

Ginger garlic paste - 1 tsp

Jeera powder - 1/2 tsp

Chilly powder - 1/2 tsp

Turmeric powder - 1/4 tsp

Garam masala powder - 1/8 th tsp

Refined oil

Salt

Imli chutney :

Tamarind soaked in water - 1 cup

Sugar - 4 tbsp

Salt

Roasted jeera powder - 1/2 tsp

Green chutney :

Coriander leaves

Pudina leaves

Tamarind

Garlic clove

Green chillies

Sugar

Salt

Curd mixture :

Curd - 1/2 cup

Sugar - 1 tbsp

Salt - 1/4 th tsp

Other ingredients :

Mashed boiled potatoes

mixed with little red chilly powder and salt

Chopped onions

Chopped coriander leaves

Chaat masala/roasted jeera powder

For the Katori : Flour

maida - 1.25 cups Butter - 1/2 cup Ice water - 3 tbsp Salt
Instructions 
Pulsate the cold butter in a blender. Add the flour and pulsate twice. Then add the cold water and pulsate once more, this will give a rough dough.

Pour the mixture into a cling film and knead to form a dough. Chill it in the fridge for 15 minutes.

Roll out the dough and cut into rounds, place them into the cups of muffin tray and blind bake them with baking beans or rice for 30 minutes in a preheated oven at 180 F. Cool them.

P.S: Blind baking is just a baking technique, where in you have to place some grease proof paper on top of the raw muffin cups, fill them with rice or baking beans.This way the pasty cups will not rise and puff ,this to give the Katori shape, and wi

For green batana curry : Heat a kadai with oil, then add chopped onions and saute till golden brown.

Add the ginger garlic paste, saute for a minute and then add the powdered spices, tomatoes and salt. Cook till masala leaves oil.

Add the boiled green batana, water and bring up-to boil. Sprinkle garam masala powder.

For the tamarind chutney : In a pan , heat the tamarind water and the pulp. Add the sugar and little salt. Cook till desired consistency and taste is acquired. Sprinkle roasted jeera powder.

For the green chutney : Grind all the above ingredients in a blender with little water. The proportion is according to personal taste.

Whisk the curd with sugar, salt and water. I like it a bit sweet, so added more sugar compared to salt.

Take the cooled baked Katori, put some mashed potato mixture.

Top it with green batana curry. Then add the curd mixture, green chutney, Imli ki chutney and sprinkle chopped onions and coriander leaves. Finally sprinkle chaat masala.