Sizzlers have been a crowd favourite ever since they were created in 1958 in California, US. Before being actually patented, sizzlers were served across bars and small diners across the States. What makes a sizzler so appealing? What's so unique about this dish that made it such a hit in such a short time?
We had a chat with Deepali Sawant, who is a successful home-cook having a fantastic time giving multiple classes on so many different cuisines and styles of cooking. She's a self-learnt individual and has come a long way in terms of picking up skills and tips that she enthusiastically shares with everyone who attends her sessions. How did she get here? Well, it all started with attending a baking class in 2009 which made her chase her passion of food and cooking to where she is today.
Sizzlers are just one of the many things she's gained expertise in. Here is everything she's shared with us about sizzlers and how to make the perfect one.
What's a Sizzler?
Let's first define what a sizzler is; the word is used to describe a "cuisine" featuring western-style grilled meats and vegetables served on a hot iron plate. However, as Deepali firmly believes, a sizzler isn't a cuisine as such, but rather just a style of serving.
The best and identifying feature of a Sizzler is obviously the sizzle sound that makes our taste buds dance! We all have a thing for food that smells or tastes unique, and sizzler is one such form of serving that drastically enhances the flavour and makes it tingle your taste buds. But getting the right sizzle without actually burning your food to a crisp, that's what you're trying to achieve.
How you can start your sizzler journey!
Here Deepali shares with us one of her many sizzler recipes that she showcases during her sessions and classes. It's suitable for both vegetarians and non-vegetarians as well, so go ahead and give it a go. If you enjoy it (and why wouldn't you?) don't forget to click here for more sizzling sessions that you can attend!
Veg Sizzler with Italian Sauce
A veg sizzler with vegetables and butter and Italian sauce served with fries.
Making the Italian sauce with vegetables
Vegetables Needed: Zucchini, Capsicum, Onion cut into cubes.
Pressure cook, grind and sieve tomatoes. Heat butter in the pan. Add garlic, onion and capsicum. Stir fry till brown. Add all the vegetables cut into cubes and sauté for few more minutes.
Add tomato puree, tomato ketchup and remaining ingredients. Cook for 6-8 minutes. Add water and 1 tsp. corn flour and cook for 1 minute. Add Basil leaves at the end.
Setting up the Sizzler
Italian Sauce with Vegetables
French fries
Garlic bread
Steamed vegetables (carrot, beans and sauté with butter and sprinkled with pepper powder)
Boiled pasta
Heat Sizzler plate for 15 minutes. Arrange cabbage leaves one layer on the plate. Place boiled pasta on one side and accompaniments like French fries, Garlic bread and Steamed vegetables on other side. Pour hot gravy over the pasta and add cold butter on sides of plate. Shift the plate on the wooden base of sizzler plate and serve.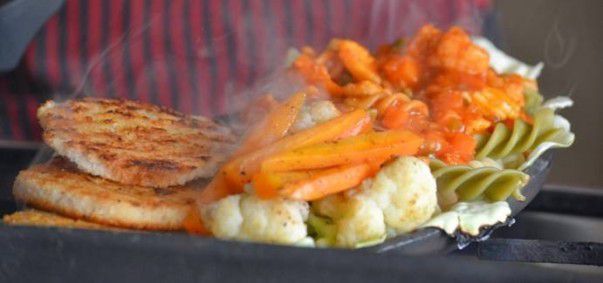 Few tips to keep in mind
Besides the easy steps given on making a sizzler, there are a few tips Deepali shared with us, to get the perfect sizzle on the perfect sizzler and how not to burn the food you serve on it!
ALWAYS heat the iron plate for at least 15 minutes before taking it off the flame. Most cooks are likely to heat it for 5 minutes or so, but it doesn't retain enough heat for that sizzle. The whole point of having an iron plate is that it retains the heat given to it. This is the most complicated part of the entire process.
The gravy should be of a runny consistency. Thick gravy would not have enough moisture for the right sizzle sound. It's also important because if the sizzle isn't perfect, the smoke won't be appetizing either.
Keep in mind that a sizzler isn't a part of, but is a full meal in itself. An ideal sizzler plate has everything including your accompaniments, starters, gravy, and the main course. You can also learn how to make desserts on sizzlers in one of many Deepali's classes.