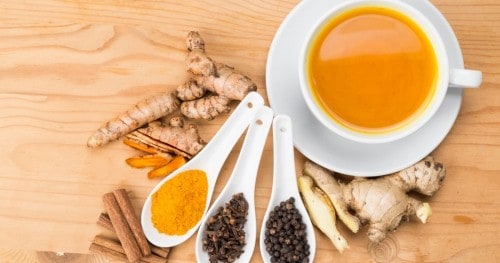 This is actually a recipe that defines more herbal home remedy for common cold, fever or any problem related to throat, nose or head. In this recipe every ingredient has its own significant role that drives a medicinal support to boost immune system. In fact, in this current situation everyone are fighting to get rid from CORONA a pandemic disease. Moreover, this virus is a fast transferring from a person to many due to which people are getting more infected and seems hard to control over. So, this recipe i suggest every single people out there to follow at their household premises. It is not a hard or any science researched medicine but it is one of the most used ancient technique to improve our immune system. Definitely, this can make you safe and get you away from infections.
Ingredients  
Turmeric - 10gms

Ginger - 15gms

Cumin Seed - 10gms

Carmon Seed - 10gms

Lemon - 1pc

Salt - 10gms
Instructions 
1. For this medicinal tea, take a medium size of pot add 1 litre of drinking water.

2. Put the flame on medium flame and when water starts to get hot add turmeric powder or if you have fresh turmeric than much better.

5. Similarly, add fresh ginger peeled and smashed. I want you to smashed the ginger rather than cutting with knife. This is because this helps to burst the flavor aroma of ginger high.

6. Salt I request you to add at last because if you put salt first than when water boiling it starts to reduce which makes the tea salty and not drinkable. So salt you can add later before you removing from the flame.
Notes
#. As a optional tips we can remove jwano or thyme seed and use rest of the ingredients only it works as well. The thyme seed you can add when you are sufering from common cold but if you are having fever than its not so much essential. However, if we add also it doesnot hamper to our body.
#, Secondly, may be few people have question that if we are not sick is it ok to have it or not. Yes, its completely ok to drink this tea even we are not sick as it is used for boosting our immune system. Its not a medicine but its a herbal methodology to fight against any harmful virus or flu to our body.