Navratri Festival, is "a circle of ecstasy" that throbs non-stop for nine nights with millions of fantastically costumed devotees swaying in a fusion of dance and devotion. Although this festival is celebrated throughout India. Every region and state their own way of celebrating navratri with their own style of naivedhya.
The significance of Navratri is offering devotion to Goddess Amba (Durga), who is believed to exist in many forms. These Goddesses are believed to be known as "Shakti" as the tales narrate their power over killing of demons. Parvati, the wife of Shiva is said to have taken different forms of goddesses. Devotees perform the 'devi-sthaapna' in their homes wherein they invite the Goddess and perform 'pooja-path' for nine days with fasting.
The nine days of Navratri are also an opportunity to rejoice in the three primeval qualities that make up the universe. Human life is governed by the three gunas and Navratri festival gives an opportunity to recognize and reflect values over it. The essence of this knowledge is honoured by celebrating the tenth day as Vijaydashmi.
The festival is enjoyed by all communities, all age groups and in most of the states in india.In navratri, people come together and perform garba. The word Garbo or Garaba has originated from Sanskrit word "Garbhdeep"- an earthen pot with circular holes is popularly known as Garbo. The earthen pot is symbol of human body and the lighten lamp inside signifies the divine soul.
Religion is a holistic approach. Significance of the deities pointing the need for deriving solutions to problems and as believed, Durga triumphs over evil, Saraswati removes ignorance and Lakshmi brings prosperity.
A legendary unique Folk Dance form also has variations with Dandia or stick Raas.There are different styles of executing dandiya steps like Dodhiyu, simple five, simple seven, popatiyu, Trikoniya (hand movement which forms an imagery triangle), Lehree, three claps, butterfly, hudo, two claps and many more.
Every year, Navratri festival brings in innovations in music, choreography, and costumes and has enthralled audience with its beauty and cultural tradition.
Before navratri, people start for preparation for the festival. They clean their houses, bring new diyas, make bhog/naivedhya and Prasad, wear new colourful and traditional clothes.
For nine days, different goddesses are worshipped and different bhog/naivedhya is offered to them.
Navratri Bhog for Day 1 – Maa Shailputri
Maa Shailputri, the daughter of Himalaya can be pleased by offering pure Ghee.
Bhog for Day 2 – Mata Brahmacharini
The second form of Maa durga is Goddess Brahmacharini. She is the one who mediates and hence likes simple food. Offer sugar and fruits to maa Brahmacharini.
Bhog for Day 3 – Mata Chandraghanta
Mata Chandra ghanta who carries the half form of Moon on her head is the third form. She is clam like Moon i.e chandra. She fulfils all the wishes and provides relief from worldly pains. She gets pleased by offering milk, sweets and Kheer.
Bhog for Day 4 – Maa Kushmanda
Maa Kushmanda is worshipped on fourth day. It is said that the universe is formed from the abdomen of Mata Kushmanda. She is offered Malpua as Bhog.
Bhog for Day 5 – Mata Skandmata
Maa Skandmata is the mother of Kumar Kartikeya is pleased on fifth day of Navratri. Banana is offered to the Goddess as Bhog.
Bhog for Day 6 – Maa Katyayani
Sixth form is Maa Katyayani – the daughter of Sage Katyayan. Offer honey on 6th day.
Bhog for Day 7 – Maa Kaalratri
Maa Kaalratri is worshipped as the seventh form of Maa Durga. You should offer Jaggery or sweets made with jiggery as bhog.
Bhog for Day 8 – Maa Mahagauri
On this day Coconut is offered to the Goddess as Bhog.
Bhog for Day 9 – Maa Siddhidatri
She is offered Til as Navratri Bhog.
Everyday other dishes are also prepared to offer to the goddess. i.e. dal, rice, papad, salad, bhaji, puri, everyday different sweet dishes is prepared like rice kheer, malpua, lapsi, sheera, rabri, gulab Jamun, jalebi, etc.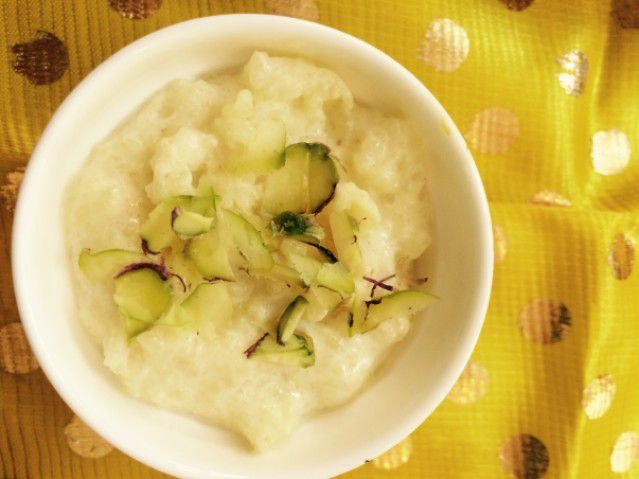 Like everyday different bhog, navratri is associated with a unique colour.
This year below-mentioned are the colours of navratri:
Navratri 9 days 9 colour
13 oct-Red
14 oct-Royal blue
15 oct- Yellow
16 oct -Green
17 oct-Grey
18 oct-Orang
19 oct-White
20 oct-Pink
21 oct-Sky blue