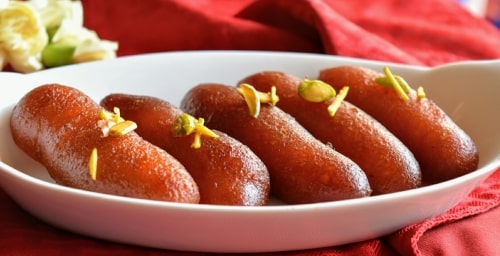 Langcha (A Sweet From Bengal)
26 July, 2017
Sweets are very important in Bengali's food culture, especially in festivities and ceremonies we can imagine without sweet dish. Bengal is famous for variety of sweets like Rasogolla, Chanar pulao, Jalbhara sandesh, Nalengurer sandesh, kalojam, Langcha is one of them,it is kind of gulab jamun / ledikeny but shape wise different. In West Bengal district of Bardhaman a town called Shaktigarh is famous for this sweet. I am not love with sweet dish though in festivals and family celebration demands sweet dish. Home made fresh tasty sweets can't be compare with frozen market one. Generally we need to make cottage cheese out of milk then cottage cheese dough shaped in oblong and fried in ghee or oil until golden brown before being put in sugar syrup. Hence I have a shortcut recipe, instead of cottage cheese I used milk, mawa milk powder, semolina, all purpose flour to make this dish though it taste same as we bought it from market.
Ingredients  
1

cup

of whole milk

1

tbsp

of semolina/ suji

1

cup

of milk powder

1/2

cup

of all purpose flour

1/8

tsp

baking soda

1

tsp

cardamom powder

1

tsp

yellow food color

optional

2

cup

of sugar

2 1/2

cup

of water

1

tbsp

powdered sugar

1

tsp

chopped pistachio

Vegetable oil for frying
Instructions 
Making sugar syrup: In a big pan add 2 cups of sugar and 2 1/2 cups of water, boil until sugar dissolves completely. Add a pinch of cardamom powder and mix well. Keep aside.

Making dough for langcha: Take a bowl add milk powder, all purpose flour, semolina, baking powder, whole milk( pouring small milk at a time, when dough is formed stop adding milk) and make a soft dough.

Cover it with damp cloth and keep aside for 10 minutes. After 10 minutes add 1 pinch of food color(optional)and powder sugar mix it well. Rest it for another 5 to 10 minutes.

Wet your hands. Take small amount of dough and pressing by hands give it a shape like langcha (as shown in the picture).Keep the size of sweets small from your desire size,it will puff up after frying .

Frying Langcha: In a deep frying pan heat vegetable oil. Then slowly add lanchas not crowded much and fry it until brown in low flame. If flame is high then langcha will take color easily but not cook from inside.

Take out fried langcha and place it on a paper towel. Warm up the sugar syrup. Add fried langcha slowly in hot sugar syrup. Let them soak for 3-4 hours, then serve. Serve it hot or refrigerate for 1 hour then serve, as you wish.