Aah, Italy and Italian Cooking ! The world of pasta, and cheese, and risotto, and the famed Tiramisu! There's always going to be a charm about that place that we can never really escape. You read about the charming chef; Mr. Mauro Ferrari, who is a professional chef at Hyatt Regency, Chennai and his love for everything Italian! Now, here are a few of his approved that will have you running to your nearest store to get all these exotic, and absolutely aesthetically pleasing plates of delicious Italian treats onto your dinner table.
They're no easy, but these Italian recipes are worth the effort you put in! As the Chef said; "you first try the original recipe and ONLY then do you attempt a fusion" and this is the perfect opportunity for you to try out these authentic 5 Italian dishes. P.S. you get a fun fact about Italian cuisine with each recipe!
Beetroot risotto with smoked ricotta cheese
No dish is as wholly Italian as a Risotto. It's not only packed with flavour with all of that creamy broth, but it's also seasoned with the best herbs and that makes all the difference. You probably didn't know that risotto is not only a dish but a "technique" of cooking rice! In this recipe, beetroot is infused deep into the risotto and the ricotta on top gives it the perfect sign-off!
Ingredients:
60 g carnaroli rice
40 g beetroot purée
40 g butter
30 g smoked ricotta
20 g parmesan.
Procedure: sauté a few shallots with a bay leaf, toast the rice and add the beetroot. Finish cooking with the vegetable stock and finally, stir in butter, ricotta, and parmesan. It's served with ricotta and steamed beet chips.
Braised lamb in natural lamb sauce
Meat is one of the main ingredients of a four-fold Italian dish. Be it chicken or beef, nothing beats the good lamb. Here is one of the more surprising facts about Italian food, it happens to use wine as a marinating agent and not just as a drink!
Ingredients:
300 g lamb shoulder
20 g carrot
20 g onion
20 g garlic
5 g thyme
100 g spinach
40 g polenta
20 g white wine.
Procedure: Marinate the lamb with onions, carrots, garlic, thyme, olive oil and wine in a saucepan. Cook it at low temperature for 10 hours. Then roll up the meat, sauté the spinach, and make polenta with rosemary. Finally, heat the lamb in its sauce; serve with the crispy polenta and the sauce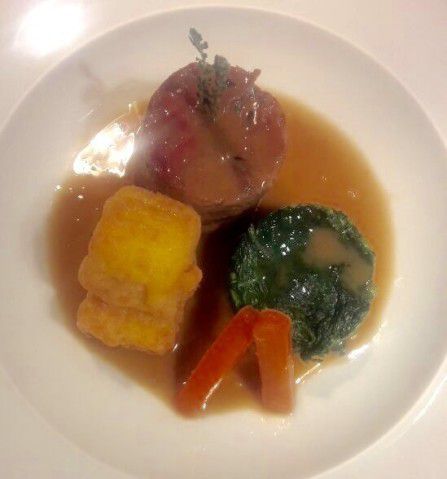 Chilean sea bass in lemon butter sauce.
This is one fish food recipe which fish lovers would fall in love with. Sea bass tastes amazingly good as a Dinner party dish or simple supper. This simple dish would be ready in under half an hour and is a no fuss heart winning recipe which your guests and family will definitely love.
Ingredients:
140g sea bass
60g asparagus spears
10g mesclun lettuce
10g asparagus shavings
30 ml lemon butter sauce.
Procedure: Pan seared the sea bass. Blanched the asparagus and sautéed in butter
Place the asparagus spears in the middle of plate, the sea bass on the top, then the lemon butter sauce. Place the asparagus shavings and salad. Finish with lemon oil.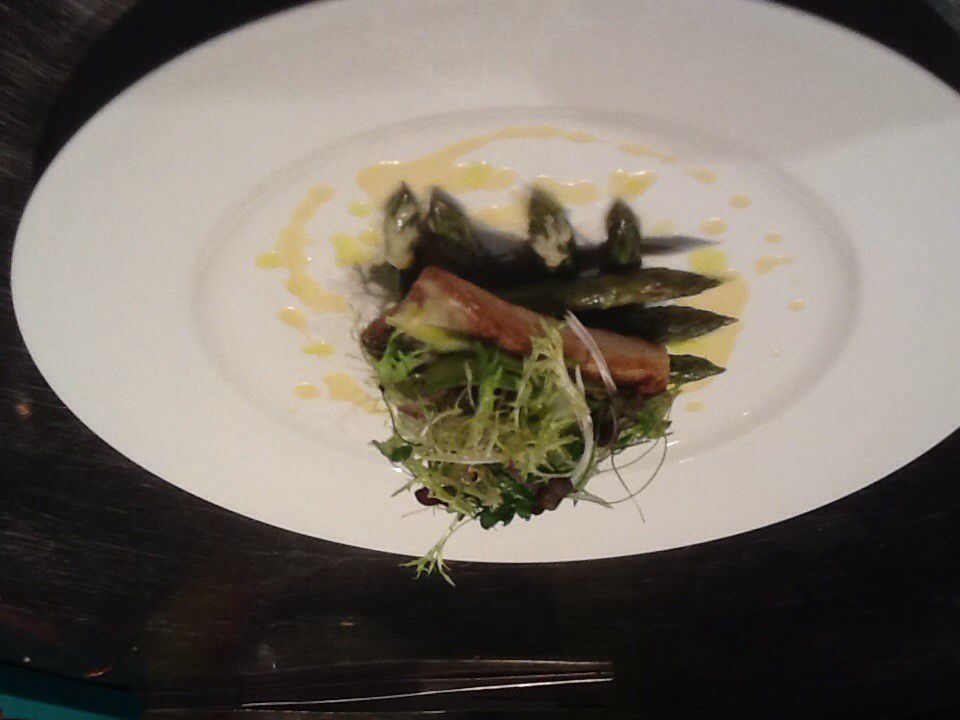 Fresh lobster and chili pepper risotto
This fresh Lobster recipe would be an instant hit because of the ingredients it uses. Do you know Carnoroli Rice which is used in this recipe is also known as "King of Rice" This is the perfect rice grown in Italy and has been traditionally used for making risotto as the shape remains perfect even though it is cooked slowly.
Ingredients:
60 g Carnaroli rice
40 g Canadian lobster
5 g red pepper
20 g butter
20 g olive oil
40 g parmesan
Procedure: sauté the shallots with a bay leaf and pepper, toast the rice, add the lobster, add the wine, fade and finish cooking with bisque which is the stock or creamy soup made from Fresh Lobster and vegetable stock, stir in butter, olive oil, parmesan, serve with a claw lobster and fresh chilli red.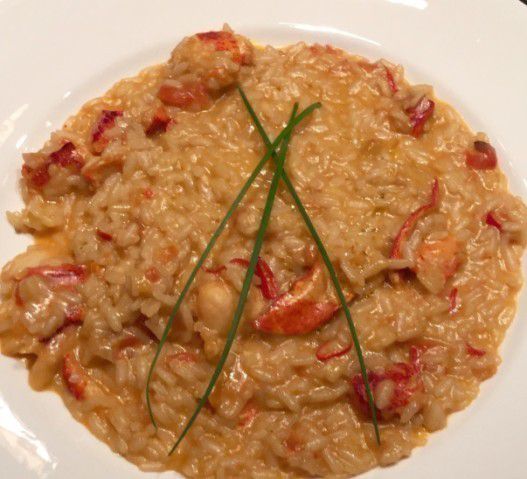 Pan Fried Shrimp & Calamari
Sometimes the name doesn't sound right and so smart chefs around the world will find a better name to make the dish sound equally tasty as they actually taste. And so is the story of Calamari – shrimp recipe here. Calamari is nothing but squid but at times not many people are comfortable after hearing that they have squid in their dish. So just change the name and make the recipe !!
Ingredients:
40 g shrimp
40 g baby octopus
60'g calamari
30 g potato
20 g green beans
30 g cherry tomato
20 g garlic ciabatta bread, 10 g garlic.
Procedure: Skip the potatoes in hot oil checked with a clove of garlic, add the shrimp, octopus, and squid cooked at low temperature, and add the green beans and tomatoes confit, ending with the croutons, the dish as photos, oil extra and sprouts.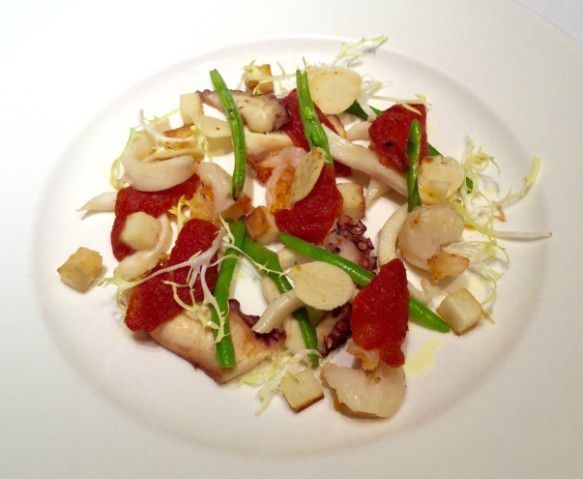 PS : All the recipes have been shared by Chef Mr. Mauro Ferrari, who is currently at Hyatt Regency, Chennai. All the Pictures have been shared by Hyatt Regency, Chennai during the interview with the Chef. If you have an interesting story Do drop us a mail at [email protected]