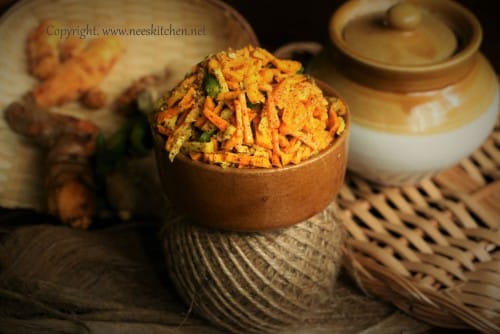 Turmeric Ginger Chili Pickle
28 September, 2016
Fresh turmeric pickle is an age old recipe passed to me from my mom and grand mom. In Singapore we get it almost throughout the year. However I don't know for which dishes it has been used. Fresh Turmeric, ginger, green chili is mixed with salt,mustard powder, lemon juice and little oil. The pickle is then left to be marinated for a day before consuming it. It goes very well with curd rice, roti's & paratha's. We used to make in India only after Pongal as we purchase them only during that time. Infact we buy at home only during that time in India. After the festival this pickle is made. Turmeric is has myriad of health benefits and having them in our food every day is good to improve our immunity. Ginger helps in digestion. You may adjust the spice levels by adding as many chili's as you want. Lemon is a must and do not ignore it as it gives a very good taste to this pickle.
Ingredients
Fresh turmeric – 150 gms

Ginger – 50 gms

Green chili – 4

Musturd powder – 1 tblsp

Lemon Juice – 50 ml

Oil – 1tsp

Salt to taste
Notes
Adding too much ginger might might over ride the complete taste. Always use only 1/3 of turmeric.
If the climate is hot, put them in refrigerator after a day of marination.