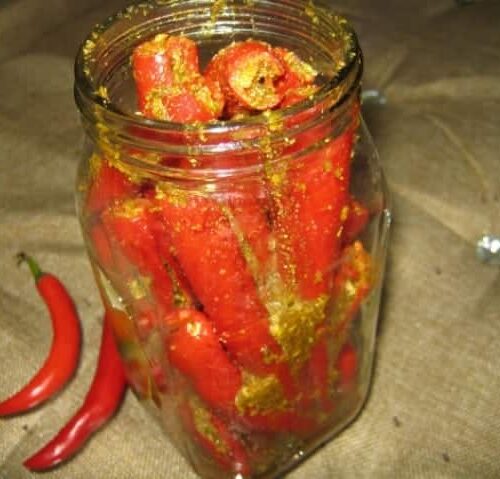 Red Chili Pickle/Lal Mirch Ka Achar
12 January, 2016
Red chili pickle is one amongst the most eaten pickles in India . As a kid I use to love it with plain rice & dal. Here is my simple recipe to make this. This time instead of using traditional thick red chillies those come specially for pickles I am using Kashmiri red chillies & its tasting really good.
Ingredients
Fresh Red Chilli 250gm

Fennel Seed Powder[Moti Sauf] 2tbsp

Black Mustard Seed Powder[Kali Sarson] 2tbsp

Fenugreek Powder [Methi] 1tbsp

Red Chili Powder 1tbsp

Dry Mango Powder[Amchoor] 2 tbsp

Nigella seeds[Kalaungi] 1tsp

Salt to taste 2tbsp approx

Mustard oil 4 tbsp

Asafoetida 1/4 tsp
Instructions
Wash & towel dry the red chilies & keep it under the sun for on hour or 2 hrs at room temperature so that there might not be any moisture left.

Now remove the green stem take the white thing off with the help of a knife. Rub the chili between your palms with the cut part downwards and seeds start falling down so keep a dish below to collect those seeds. Now slit the chilies in center .

Heat the mustard oil till smoking point and let it cool.Mix all the powdered spices and two tbsp oil which is cold now. Mix well.

Fill this spice and oil mix into chilies with the help of a spoon one by one. Dip every single stuffed chili in remaining oil and keep it in a glass/stone jar.After all chilies are done pore the leftover oil if there is some in the chili jar.

Keep it under the sun for 6-7 days or 8-10 days at room temperature. It is good to serve now.. You can keep it till 3 months outside refrigerator.
Notes
If u want it little more hot you can add seeds to the filling & fill it back to chili. We are removing it to make enough space for filling.
You can wear surgical gloves to avoid your hands burning if you are allergic to chili touch
Rub some oil in your hands & then stuff it . This also prevents burning.