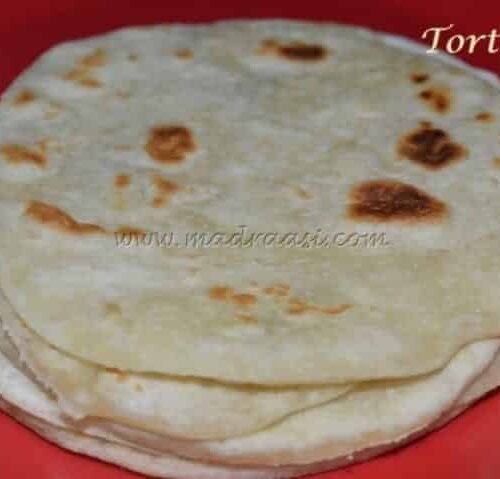 Tortilla, a name given by the Spaniards to the unleavened flat bread they found in Mexico round 16th century. The word "Tortilla" comes from the Spanish word "torta" which means round cake. Tortillas are an important part of the diet in South American countries. They are used in sandwich and so on. But this was my first attempt towards tortilla and it came out well. Tortilla fillings include guacamole, grated cheese, tomato salsa, chopped raw onions and so on… Once prepared you can store the rest in a zip bag or air-tight container in a refrigerator and use when by re-heating it whenever you need. So it will be an easy mode of food for busy people. Let us move on to the recipe…
Ingredients
All Purpose Flour / Maida – 2 cups

Baking Powder – 2 tsp

Salt to taste

Olive oil – 5 tbsp
Instructions
Sieve all purpose flour/maida, baking powder, salt together in a wide mouth bowl.

Pour in water little by little and knead the flour to a soft batter. Leave it for 15 mins.

Pour in the oil and again start kneading for about 5 mins and let it rest for an hour.

Roll it in a wet towel.

Divide the dough to small portions of balls and again rest it for half an hour. Cover with a wet cloth.

Now flatten the dough by dusting with all purpose flour/maida and start rolling to a flat bread.

Heat griddle and gently place the rolled bread, drizzle few drops of olive oil along the sides of the bread.

Wait for 5 mins, swap the side once you spot golden brown color on the bread.

Wait for 5 mins, till you spot out golden brown color on the bread.

Wrap it in a cotton towel, to bring it to room temperature.

Serve with any spread.
Notes
Note: Store it in an air-tight container or zip bag in refrigerator, and re-heat when you're in need of it.