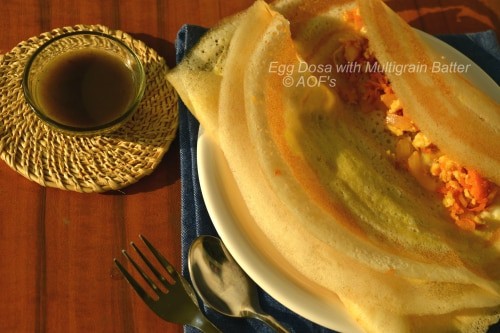 Egg Dosa With Multi Millet Batter
28 April, 2017
Egg dosa is a family favorite !! We love our dosa and we also love our scrambled egg n toast too, so the ideal compromise is reached when I combine the two and come up with this super easy recipe. Try it and you will fall in love with it !
Ingredients
1 1/2

cup

Multi millet batter

3

eggs

1

large onion

chopped into small pieces

chilli powder as per taste

2

tsp

ketchup

1

tsp

light soy sauce

2

garlic cloves

finely chopped

salt to taste

oil for cooking
Instructions
Take the multi millet batter and dilute it with water to get the right consistency for dosa. Season with salt.

Heat 1 tsp oil in a frying pan. Break two eggs over it . Add a little salt and scramble them.

Once the eggs are firm, add chopped onion and garlic. Saute till the raw smell goes off.

Finally add chili powder, soy sauce and ketchup. Saute for 2 mins and then remove from the flame.

Break the remaining egg in a bowl, add a pinch of salt and then whisk it gently.

Heat a dosa tawa. Sprinkle some water and if it sizzles, the temperature is right. It should not be smoking hot.

Pour a ladle of the batter and spread it using circular motion.

Put 2 tsp of the beaten egg over it and spread it using a spoon. Drizzle a little oil on the sides of the dosa.

Once it is cooked through, put some of the scrambled egg in the center . Fold it over and remove from the pan.

Serve hot with chutney / ketchup !