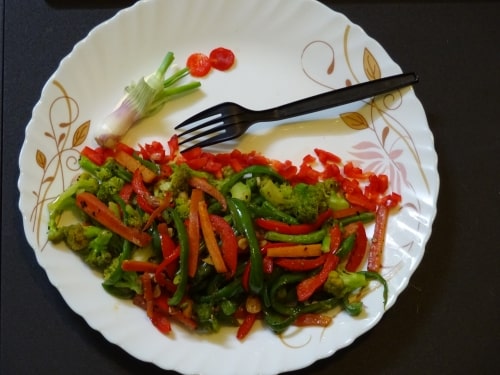 Sauteed Vegetables
Stir frying (Chinese pinyin: chao) is a Chinese cooking technique in which ingredients are fried in a small amount of very hot oil while being stirred in a wok. The technique originated in China and in recent centuries has spread into other parts of Asia and the West. First the wok is heated to a high temperature, and just as or before it smokes, a small amount of cooking oil is added down the side of the wok (a traditional expression is "hot wok, cold oil"), followed by dry seasonings such as ginger, garlic, scallions, or shallots. The seasonings are tossed with a spatula until they are fragrant, then other ingredients are added, beginning with the ones taking the longest to cook, such as meat or tofu. When the meat and vegetables are nearly cooked, combinations of soy sauce, vinegar, wine, salt, or sugar may be added, along with thickeners such as cornstarch, water chestnut flour, or arrowroot. The chao technique is similar to the Western technique of sautéing.
Ingredients
Oil – 1 tbsp.

Finely chopped garlic – 1tbsp

Carrot – 1 Cut into thick julienne

Red capsicum – ¼ cup sliced

Green capsicum – ¼ cup sliced

Broccoli florets – ¼ cup

Black paper – ½ tsp

Red chilli flakes –1/2 tsp

Lemon juice – ½ tsp

Honey – ¼ tsp

optional

Salt to taste
Instructions
Add lemon juice and honey mix well. Switch off the flame.

Serve Hot.
Notes
Don't overcook vegetables.