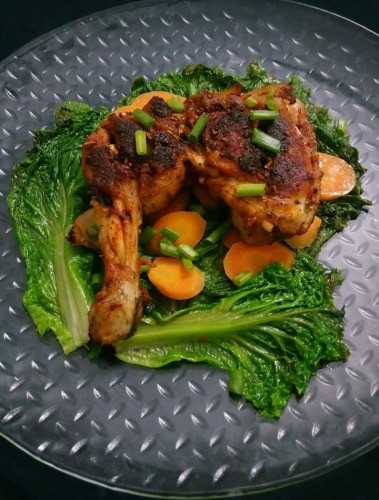 Pan Roasted Chicken Leg With Butter Sauteed Veggies
28 February, 2018
Chicken Leg roasted until golden brown in the pan and finished with butter sauteed green lettuce and Carrot slices. Made with minimal supplies, this technique is so simple that you'll master it on the first try. Quick, easy and delicious, moist, tender pan Roasted chicken legs.
Ingredients  
Chicken Leg 1 whole

Green Lettuce 3-4 whole leaves

Carrot 1 nos sliced

Butter 3 tsp

Spring Onion greens for Garnish

For marination: Fresh Ginger garlic paste 1 tsp

Pepper ½ tsp

Lemon Juice ½ tsp

Salt to taste

For paste: Chilly powder 2 tsp

Pepper powder ½ tsp

Garlic 2 fat cloves finely chopped

Water 2 tsp

Salt to taste
Instructions 
Wash the chicken and make 2-3 slashes on both sides for even cooking.

Pat dry nicely the chicken leg with kitchen towel and marinate it with the marination ingredients mentioned above for atleast 30 mins.

Add 2 tsp butter in a pan. Lay the chicken leg over it, cover the pan and cook on low heat for 40 mins.

Turn over every 5 mins to cook evenly on all sides.

In a small bowl take the paste ingredients, mix nicely and make a smooth paste.

Apply the paste all over the chicken and roast for 2-3 mins on each sides and take off the flame.

In a pan add 1 tsp butter, add the green lettuce and Carrot slices and saute for 5 mins.

Serve the roasted chicken leg with the butter sauteed veggies garnished with Spring onion.