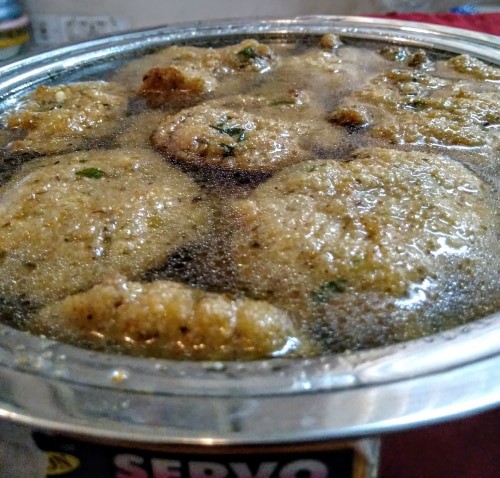 Rajasthani Kanji Vada
12 April, 2018
This is a marwari delicacy of moong dal vadas immersed in tangy mustard flavoured liquid. The 'kanji' or 'rai ka pani' as it is known needs to be prepared a day in advance so that all the flavours mellow down. Kanji vadas are a popular snack sold on the streets throughout Rajasthan.
Ingredients  
For the kanji : 1/4 mustard seeds

rai ka kuria

1

tbsp

black salt

1/2

tsp

salt

1/2

tsp

red chilli pwr

5

cup

water

For the vadas: 2 cups yellow moong dal

soaked for 1 hours and drained

1

tsp

ginger

green chilli paste

1/2

tsp

fennel seeds

1/4

tsp

asafoetida

1

tsp

salt

3

cup

oil

for deep frying

1

tsp

red chilli pwr

1

tsp

kasoori methi

1

tsp

coriender pwr

1

tsp

coriender seeds

1/2

tsp

garam masala
Instructions 
For the kanji : Combine all the ingredients Transfer to all the ingredients into a deep bowl, add 5 cups of water and mix well. Cover it with a lid and sun light for 24 hours.

FOR VADA Overnight-soak the moong dal. Drain out the water the following morning and grind the dal into a coarse paste by using very little water. Also add in the green chilli-ginger paste, saunf, hing and salt,garam masala,coriender pwr.

Add coriender seeds,red chilli pwr,kasoori methi,garam masala and 1 tsp hot oil mix well.

Heat oil in a kadhai and plop small balls of this dough into it. Deep-fry the Vadas till they have turned golden brown in colour.

Drain the Vadas on an absorbent paper and then transfer them into a bowl containing cold water.

Drain and squeeze out all the water from the Vadas by lightly pressing each of them. Next, place the Vadas in the Kanji and allow them to soak for at least an hour.