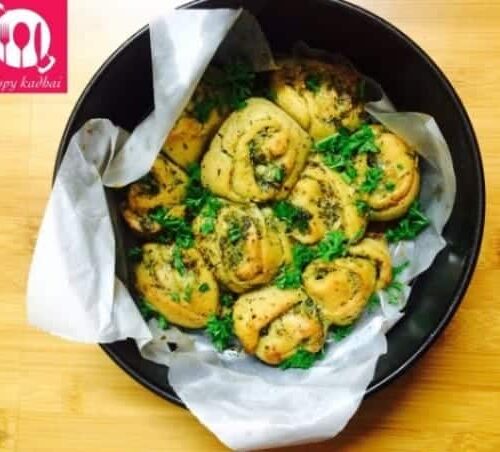 Pesto & Tangy Tomato Whirls With Hints Of Garlic
A garlicky delight stuffed with freshly grind-ed pesto and tangy tomato whips, rolled out smoothly and baked with utmost perfection.
Ingredients
For bread dough: All purpose flour 1 Cup

Instant Yeast- 1/2 tsp

Sugar- 1/2 tsp

Baking powder- A pinch

Salt – 1/2 tsp

Slightly warm water – 1/2 cup

Milk – For finishing

Extra butter – For finishing

For Pesto filling - 2 packs of fresh Basil leaves

6

cloves

of Garlic

1

tbsp

Olive oil

1/2

tsp

black pepper powder

Salt – According to taste

For Tangy Tomato filling 4 tomatoes – Boiled & Pureed

Garlic flakes – 1 tbsp

Finely chopped onions – 1 tbsp

Tomato ketchup – 2 tbsp

1

tsp

butter

1/2

tsp

black pepper powder

Salt – According to taste

For garnishing Grated cheese – 1/2 cup

Freshly chopped Parsley – 1 tbsp
Instructions
For dough: Warm water slightly. ( 15 secs in MW) Mix sugar in it. Sprinkle Yeast. Mix it lightly. Cover it and put it in warm place for 15 mins.

Once the yeast is proved ( i.e. mixture becomes frothy) mix it in flour (along with baking powder and salt) and knead a dough. Knead it for at least 10 mins.

Brush it with olive oil and keep it in warm place for at least 45 mins. Dough will rise to double its size. Now knead it lightly once more and keep it away for 10 more minutes. Dough is ready.

For Pesto Filling: Take all the ingredients apart from olive oil. Grind them all together while adding olive oil slowly. Grind till smooth. Pesto is ready!

Note: Adding olive oil slowly while grinding gives it a smooth texture and oil doesn't separate.

For Tangy Tomato: Take a pan. Add butter and garlic flakes. Fry it lightly. Add finely chopped onions.Fry it and add pureed tomatoes. Keep it mixing till first boil. Sprinkle sugar, black pepper powder and salt. Add tomato ketchup. Mix well.

Now divide the dough in 2 equal parts. Take one part and roll it out evenly in a big round shape.Spread the pesto mixture evenly on all sides and add grated cheese.

Start rolling out the dough from one end. Once it is done, make 12 slices out of it. Repeat the same procedure for tangy tomato whirls.

Arrange the same on the baking tray at equal distance. Cover it with a warm cloth and let it rest for 30 mins. ( Dough will again rise and takes it shape).

Now keep your OTG / Fan on pre-heat mode at 180 degrees. Once done, put the baking tray and bake the whirls for 20 minutes. Keep brushing it with milk and Amul Garlic butter after every 5-6 mins. This will add the glaze on the whirls.

Once done, take them out and arrange on the serving dish. Sprinkle freshly chopped parsley and serve them hot with Mayonnaise and your favorite drink.

Bon appetit!!!