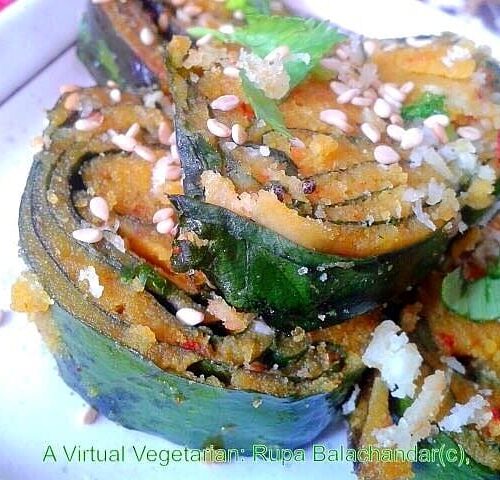 Patra is a delicious snack time favourite from Gujarat, and a similar snack is made in Maharashtra and Karnataka
Ingredients  
9-12

large patra leaves

colocasia leaves

1/2

cup

thick tamarind extract

2

cup

gramflour

besan

1/2

cup

chopped coriander leaves

finely chopped

2

tbsp

grated coconut

optional

2

tbsp

sugar

2

tbsp

crushed green chilli

2

tbsp

crushed ginger

2

tsp

chilli powder

1

tsp

cumin powder

1

tsp

turmeric powder

1/2

tsp

asafoetida

salt to taste

For seasoning

2-3

tbsp.

oil

1

tbsp

sesame seeds

1-2

tbsp

coriander leaves

finely chopped

1

tbsp

mustard seeds

1

tbsp

coconut grated

1/4

cup

water
Instructions 
Clean, wash and wipe leaves. Cut thick veins on the leave using a paring knife taking care not to tear the leaf. Lightly roll with a rolling pin over the veins and set aside.

Mix all ingredients for stuffing and make a thick paste. Place the underside of the leaf facing up on a flat surface and apply a thinnish layer of the paste all over the leaf. Place another leaf over it.

Create 2-3 layers of leaves/paste, with the final layer being that of paste. Now carefully fold 1 inch of the edge of the leaf towards the center on either side of the leaf.

Then starting on the widest part of the leaf start rolling the leaves into a log similar to rolling a Swiss roll. Making sure that the roll is tightly rolled. Repeat steps with balance of leaves.

Heat a steamer pot and using either a Steamer basket/perforated tray or dhokla stand place the prepared rolls, cover and steam for 25-35 mins on a medium flame.

Make sure to check water levels in the steamer pot occasionally. The rolls are done when you insert a knife into the roll and it comes out clean. Allow it to cool completely and cut into discs 1/2- 3/4 inch thick with a sharp knife.

Heat oil in a pan add mustard seeds and allow to sputter. Turn off the flame and add rest of the ingredients. Gently slide the discs and allow to brown.

Serve warm or cold with green coriander chutney.