Baked Paneer Dumplings In Shahi Baked Gravy
Recipe Taste
Not Specified
Yield / Serves
4 Servings
Paneer dumplings with colored bell peppers are deep fried and served with shahi but spicy and baked gravy.)
Paneer - 3/4 cup (crumbled/ shredded), Potato - 1 large (cooked & mashed)
Bread crumbs – 1/2cup, Pepper powder - 1/3 tsp, 1/2cup chopped mixed vegetables (three coloured bell peppers)
1tsp cheese, 1tsp butter, Ginger & chilli paste to taste, Salt - to taste, Oil - to deep fry
Ingredients for shahi gravy -1/2cup white sauce, 1/2cup milk
2tsp grated cooking cheese, 2tsp colored chopped bell peppers
salt and black pepper powder to taste, 1/4cup of cashew nut and coconut paste 2tsp cream,1tsp kasuri methi
To garnish –grated paneer, remaining sauted coloured bell peppers, red chilli flakes, glazed cherries and cashewnuts
Method for dumplings –Heat butter and sauté three coloured bell peppers for 2 minutes .Keep aside .Peel skin of potato and chop into chunks, boil 2 cups water and add the cut pieces to it. Let it boil for 8 minutes until fully cooked.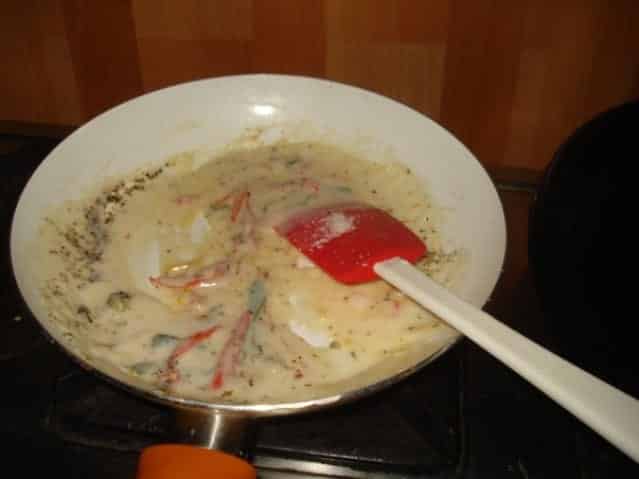 Discard the water and mash completely. Let this cool down.
In a bowl add shredded paneer, pepper, bread crumbs ,ginger-green chilli paste, salt ,half of sauted three coloured bell peppers and the cooled mashed potato.Knead to form a soft dough, taste to check for spices.
Repeat the same for the remaining balls or rolls .Keep aside. Cut the balls into two.If you made rolls cut them in thick slices with sharp knife.dumplings are ready keep aside and make shahi gravy .
cook for 2 minutes .Add salt and pepper to taste .Grease a baking dish and put the mixture in it. Arrange prepared dumplings in dish. Grated cheese . Sprinkle red chilli flakes Bake in a hot oven at 160 degree c for 5-10 minutes just before serving
Decorate with glazed cherries ,cashewnuts, remaining sauted coloured bell peppers .Serve hot with nan or parantha .
How useful was this post?
Click on a star to rate it!
Rated 4.5 based on 2 votes
Be the first to rate this post.