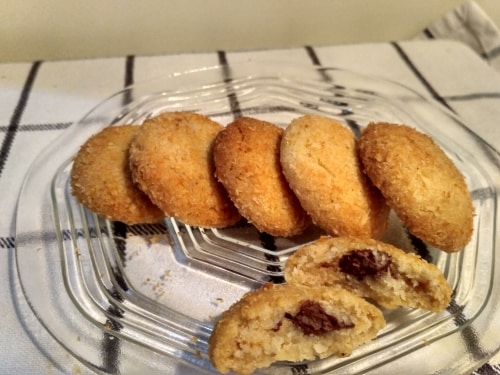 Honey Coconut Cookies With Chocolate Inside It.
If you love honey and adore coconut, and you are looking for the PERFECT excuse to combine the two, then this perfect Honey Coconut Cookie recipe is for you because of the magical ingredient(HONEY).Recipe for "cook healthy with honey"
Ingredients
All purpose flour-150gm

Dessicated coconut-75gm

Honey-25gm

clarified butter/unsalted butter-50gm

at room temperature

sugar-25gm

Baking powder- 1/2tspn

Baking soda-1/4tspn

chocolate-for filling

cut in to small pieces

vanilla extract-1/2tspn
Instructions
In a bowl take clarified butter/unsalted butter,sugar,.honey(magical ingredient),vanilla extract and whisk it.

combine dry ingredients(all purpose flour,dessicated coconut,baking soda)except baking powder.

Now add dry ingredients including baking soda in to butter mixture and mix it.

Take small piece of dough fill it with chocolate pieces into it and roll in to balls.

Roll in to extra dessicate coconut and press down slightly.Put it into freeze for 10min before bake.

Now preheat oven at 180 degree and bake it for 15 min.Also you can bake it in airfryer at 180 degree for 15 min.
Notes
when you take the cookies out of the oven, they will feel incredibly (and look) soft, don't worry, after they completely cool, they will harden up.