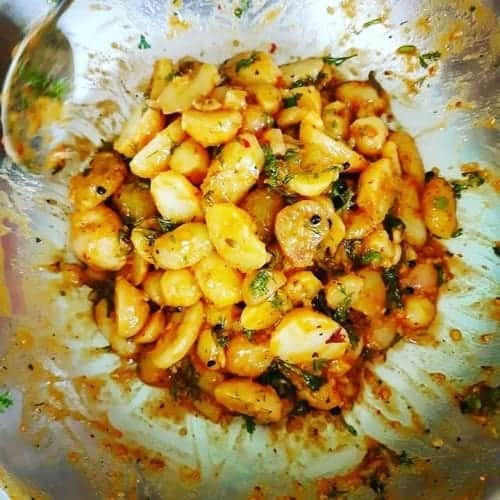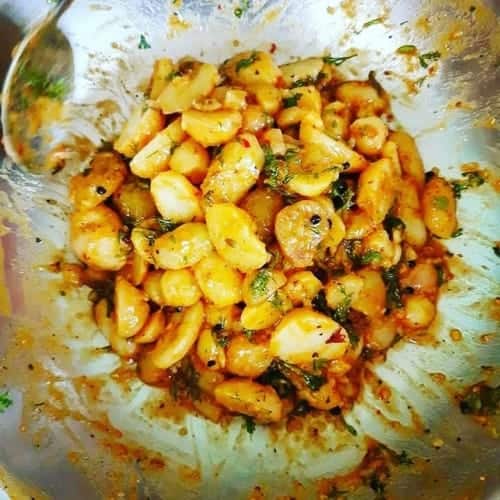 Mom's Spicy Potato Pickle
4 May, 2020
Hello everyone, welcome to my another recipe here. This is one of my favorite recipe which i love most during a day time. Actually this recipe i learnt from my mom. She really has a great sense of taste and i am blessed for that. Besides, this recipe has its own distinctive flavor. All the spices are home made and nothing external products are added to it. This recipe you can make easily at home with the available masalas. Read the recipe and follow it and i am 100% sure you will love it. If you love this recipe please mention it on the comments section below. Also If you love such recipes and cooking tips you could even follow me on my youtube channel #. https://www.youtube.com/channel/UCVanp2p8FgdyFSg4QHcOLBQ?view_as=subscriber
Ingredients
Small potato - 500gms

Red onion - 150gms

4 PCs

coriander fresh - 60gms or 1 bunch rough chop

Green chili fresh - 10pcs

depends on your taste

Cumin seed dried & grounded - 20gms

Coriander grounded - 20gms

Turmeric powder - 2 tbsps

Dry red chili - 6 to 8pcs

Fenugreek seed - 15gms

Mustard oil - 150 to 180ml for tempering

Ginger fresh - 60gms
Instructions
1. For this recipe, first take the equipments required and all the ingredients make ready. Like: Pressure cooker, spatula, spoon, all spices, mixing bowl large. pestle & mortar, stove etc.

2. Put potato in pressure cooker covered with cold water and put on stove for 20 to 30 minutes not to be overcook but should be fully boiled. For this recipe small potatoes works much better and tastier.

3. Gather all the spices keep aside. Ground red chili with 1/2 tsp of salt and ginger fresh on pestle & mortar till it looks like on a picture below.

4. Now if your potato is cooked than remove from the heat. Take out the potatoes from pressure cooker keep in a clean large bowl. Then, start peeling the skin. After peeled cut just half simultaneously.

5. After cutting potato keep aside and put a pan on a stove then add mustard oil on it. Temper fenugreek seed fry it till black in color.

6. Put turmeric powder, coriander powder, cumin powder, paste of dry chili & ginger, salt on a potato and chop green chili in a mixing bowl.

7. Add tempered fenugreek with mustard oil when its hot in a mixing bowl on top of turmeric and other spices.

8. Finally add fresh coriander chopped on it. Then, mix it with spatula or if you have gloves then mix with hand. This pickle goes mostly as snacks during brunch mostly but during lunch or dinner and specially in festive period goes very well.
Notes
#. In this recipe potato is the main ingredient which makes this pickle a special one. Besides, you can even add green peas, chickpeas or any other additional ingredients as per your taste. But i prefer to eat just with potato and with above mentioned ingredients which is my favorite.
#. This recipe is as simple as it looks. Nothing is so complicated in this recipe if you follow my mentioned procedure i assure you that you will definately enjoy it.
#. In this recipe you can twist the ingredients and add any ingredients you like but i suggest to eat as it is. Because sometimes simple ingredient doesnt require additional ingredient to taste better.