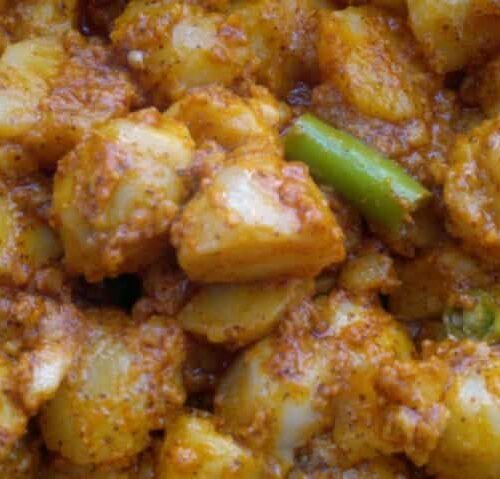 Instant Potato Pickle (Aloo Ka Achar)
Potato Pickle is a very unique pickle which is very simple to make and takes no time to prepare. Damm Tasty..
Ingredients
Boiled Baby Potato – ½ kg

Salt – As per Taste

Mustard Powder – 2 tsp

Red Chilly powder – 1 tsp

Turmeric powder – ½ tsp

Green Chillies – 2-3 pcs

Mustard Oil – 3-4 tsp
Instructions
Peel the boiled potatoes and cut them in to pcs. Roughly mash few potatoes to make the gravy. Take heated and cooled mustard oil, add red chilly powder to give nice colour, turmeric powder, mustard seed powder, salt. Mix all ingredients well.

Add potatoes in the above mixture and mix well to evenly coat all potatoes. Further add the mashed potatoes and green chilies. Keep the pickle in sunlight for atleast 2-3 days to get the right sourness of the pickle.

Once ready serve with parantha and curd.