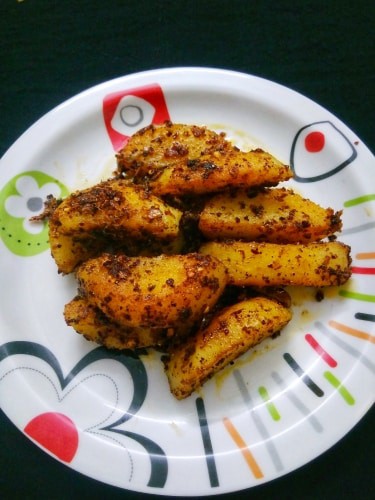 Spicy Potato Roast
10 July, 2018
Spicy potato roast is a very flavourful side dish. It is prepared with freshly grounded spices. The spices are dry roasted and grounded, then par boiled potatoes are marinated with the grounded spice mixture and roasted in a pan over gas top. A perfect side dish for dal roti rice.
Ingredients
Potatoes - 3 peeled and cut into large wedges

Coriander seeds 1 tbsp

Peppercorn 1tbsp

Cumin seeds 1 tsp

Dry Cherry Chilly 5-6

Ginger garlic paste 1 tbsp

Salt to taste

Oil 2 tbsp

Water as required to cook the potatoes
Instructions
In a pan dry roast the coriander seeds, peppercorns, cumin seeds and the chillies till it crackle and releases nice aroma. Turn off the flame and let it cool down and grind them into fine powder.

In a pan boil the potatoes for about 5-10 mins. It should not be very soft. Drain off water.

In a mixing bowl add the potatoes, spice powder and ginger garlic into it. Add salt and mix well. Keep aside a few mins.

Heat oil in a pan and add the potatoes. Cover the pan and roast them in low-medium heat for 10-15 mins. Stir it occasionally.