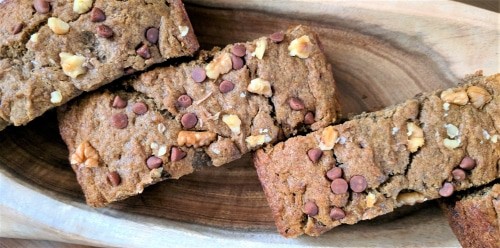 Millet Chocolate Chunk Banana Cake
Millet has entered my kitchen forever now. Whites (All purpose Flour, White Rice, and Dairy) is slowly getting replaced by plant based food. Millets are gluten-free and vegan too. I have tried eggless banana cake previously so this time I tried to introduce millets in my cake. This cake is delicious, healthy and would be spongy because of Bananas. Use of organic jaggery gives it a dark color without even using cocoa powder. I used chocolate chunks this time to get that gooey taste in every bit. Add walnut and chocolate chips to attract kids. Try this recipe, you feel like a big time cheat mommy because you are feeding millets to your kid !!!! Let's jump to the recipe.
Ingredients
Over-Ripened Bananas - 3

Whole Wheat Flour 1 Cup

Mix Millet Flour

Finger millet, Foxtail Millet, Little Samai - 1/4 Cup

Organic Jaggery 1/2 Cup

Regular White Sugar or Brown Sugar can also be used

Coconut Cooking Oil - 2/3 Cup

Chopped Walnut Kernels - 2 tablespoon

Just to sprinkle on top

Chocolate Chips - 1 tablespoon

Just to sprinkle on top

Chocolate Chunks - 1/4 Cup

Baking Powder 1 tsp

Baking Soda 1/2 tsp

Vanilla extract 1 tsp

Himalayan Pink Salt

Regular salt can be used 1/4 tsp
Instructions
Set Over to Preheat for 180 degrees C Meanwhile Peel and mash the over -ripened bananas so that it forms a nice smooth paste with help of a fork or blender or Potato Masher.

Sieve Jaggary it to avoid lump. Pour coconut oil, this will have its own aromatic flavor and drop the vanilla extract. Stir it with the spoon or egg beater.Let it become a smooth paste and all the ingredients are mixed well.

Keep these wet ingredients aside and now it's time to work on dry ingredients.Sieve Wheat flour to avoid lumps if any, Sieve millet flour, Put the pinch of salt, baking powder and baking soda and give it a stir once or twice.

Put in the dry ingredients into the wet ingredient bowl and start folding it in the circular motion gently.

Smash chocolate bar to get chocolate chunks and put handful of them in the batter.

Sprinkle chopped walnuts and chocolate chips. Walnuts are a classic and traditional add-on for this recipe so go for it.

Grease the 9-inch regular baking pan with some oil and pour in the batter. Tap it few times.

Let it bake for 30 minutes and then check it by pricking it with the toothpick. It took another 10 minutes for me to bake as it did not pass the toothpick test. once done, let it stand in the oven for few more minutes.
Notes
1. Kindly use organic jaggary instead of brown sugar or white sugar. You will appreciate your decision as its healthy, natural and less processed.
2. Use organic coconut oil. You will love the aroma. I have started using coconut oil in all my cake and cookies recipes and never regret that.Don't forget to check out my Eggless Banana cake and Mix-Millet Cake recipe.
Please check the list of baking tools which one would usually need during baking.
Don't forget to check out my Eggless Banana cake and Mix-Millet Cake recipe.