Amrita Raichand – A mom who has magic in her fingers and a zillion Dollar smile to die for. A very well know face in the advertising fraternity, popularly known as "Whirlpool mom", her career highlights include modeling, becoming a celebrity chef and the host of one of the most popular culinary shows: "Mummy ka Magic". She is a true motivation, inspiration and a role model for all the moms out there who aspire to leave a mark in the food industry. Team Plattershare got an opportunity to talk to Chef Amrita in an exclusive interview. Talking to her felt like talking to a buddy and she also has an exclusive message for all the Plattershare home chefs and budding entrepreneurs. Don't forget to hear her out in the Video clipping at the end of the article.
And this is what we asked her
A known face in the advertising fraternity, model, actress, chef, host of the best culinary show; which role is the closest to Amrita?
Modeling and hosting are very natural to me and so is cooking. I loved cooking but never thought to be a chef as I always loved the glamorous part of any job and never wanted to work in the hot kitchen until 5 years back when Chef Sanjeev Kapoor persuaded me for the show. I took this opportunity considering it as yet another work for my modelling career but when the show "Mummy ka Magic" became a hit and for the first time I was recognized as "Amrita Raichand" then I really worked hard towards it to get the technicality of the career, as moms and dads are looking up to me. Small things which I did on my show were loved by all. So there was a transition from Modelling to being a Chef and now all the three have intertwined into me. Now I consider being a Chef as being ME, I still endorse brands and host the show. And all three are just part of me and close to me.
You are a busy mom, one debatable question which all mothers face is – Which is better, a working mom or a stay at home mom when it comes to providing nutritious and healthy food?
It really doesn't matter whether you are a working mom or stay at home mom when it comes to provide nutrition and healthy food to one's child. What really matters is the right knowledge and right inclination to provide nutrition. There are many moms who work and yet make sure that their kid is taking right nutrition and many women who are stay at home at times miss that. So right information, right inclination is the key and it is not easy, Even, I struggle at times while thinking about health and nutrition, you need to work towards it. Don't worry I am here to help you out and find the solution.
How different is it to cook in a show v/s cooking at home?
Oh! It's whole different story. At the show, I have my back kitchen staff to give all the assistance which I would need. I usually make around 9 recipes in a day when I shoot and showing all the steps is not possible and I need my team's support as we have to do everything in a rush. At times I feel bad that I am not able to feed my team with what I cook because there is a whole lot of pending work, but at home, I prepare from scratch and usually there are not so many recipes. I tell my friends that my modeling days were much easier as I used to go out finish my assignment and come back home but being a chef means when you are not shooting you are still making yummy food at home and doing a lot of research on recipes and nutrition. My work never ends now but I am enjoying it. No regrets.
Mothers always run behind the kids to feed them but forget about themselves but when they look at you, it's inspiring. How do you stay fit and so glamourous all the time?
I work out very hard because I feel I can inspire mothers out there. Especially in India, we have this general attitude that "Baccha paida hogaya" (Once a kid is born), your life is over. You should look and feel good about yourself and be fit and healthy. Because if you want your family and home to be healthy you need to be healthy first. Feel good about YOU!! Life has just begun, it's just another chapter. I keep giving a lot of tips during the show and would ask all the moms to take care of themselves. If you are looking for more tips, do subscribe to my youtube channel "Being Amrita Chef and beyond" which has all that you need.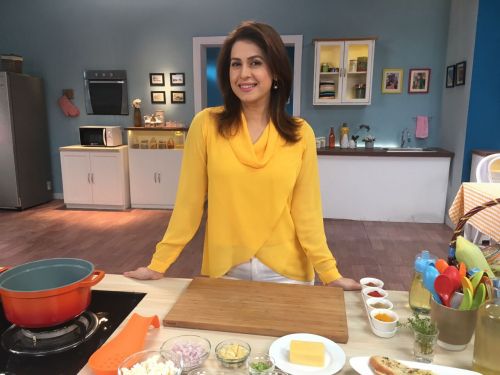 Everyone has a hard day! What does Amrita Cook and do when it's not one of those good days?
I don't cook at all that day and I just spend 4-5 hours lolling around, call My 'maalish-waali' (masseur), order food and just do nothing. Then after a while when I realize that I have wasted enough time, I start working hard again. So there are many days when I haven't cooked anything at all.
After the hit Show of "Mummy ka Magic" What's next?
Mummy ka Magic would always be there. With all new recipes and new seasons. But now I am working on a book which would focus on child nutrition and healthy food. Then my youtube channel – "Being Amrita Chef and beyond", which would have a whole lot of playlists concentrating on health and tips on well-being. Of course, there are a lot of gourmet and social events for which I travel. So, it's a whole lot of balancing which I need to focus on.
The Secret behind your million-dollar smile and those rolling fingers when you say "This is mummy ka magic", whose idea was that?
Everyone keeps complimenting me for that but it's very natural. There is no particular secret and I am genuinely happy. I never felt conscious when I am in front of the camera and so I smile, it's not that anyone has a bad smile, at least I have never seen a person with a bad smile, it's just that people don't smile enough and those rolling fingers are very natural to me. I am a completely surgery-free person.
One message which you would like to give aspiring home chefs on Plattershare
I would like to wish all the home chefs out there all the very best in your endeavor to become something amazing. Keep cooking because I think cooking is the most amazing thing you can do in life. Forget what it makes you in your career, just think about what it does to your family, how much happiness it brings and nutrition and the sheer joy it provides. So just keep doing that and I am sure god will bless you!!
So this was Amrita Raichand – Celebrity Chef and Host of famous culinary show "Mummy ka Magic"  Follow Chef Amrita on twitter, facebook and her youtube channel – Being Amrita, Chef and Beyond and get inspired by this glamorous mom!!
If you loved this story and want Team Plattershare to interview your favorite celebrity chef. Do let us know by commenting on this article and we will work on it.