Recipe Taste
Not Specified
Yield / Serves
2 Servings
Khuskhus / poppy seed paste - 2 tbsp
Turmeric powder - 1/2 tsp
Red chilly powder - 1 tsp
Garam masala powder - 1 tsp
Clarified butter / ghee - 1 cup
Chopped coriander leaves - 1 tsp
Peel the eggs and preak it.
Heat clarified butter / ghee in a pan
Add boiled eggs and fry till dark brown on low flame and strain it.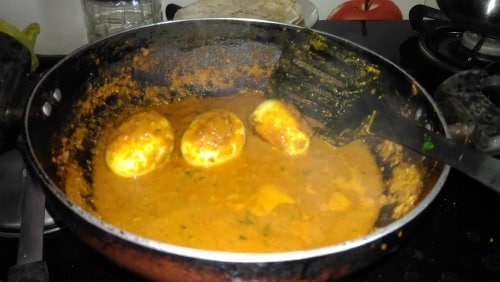 Heat clarified butter and add cumin seeds and whole garam masala to crackle.
Add onion paste,red chilly powder,turmeric powder,coriander powder,garam masala powder and ginger garlic paste and saute for 3 - 4 mins.
Add poppy seed paste and mix well.Add tomato puree and saute for 2 - 3 mins.
Add one cup of water and bring to boil.
When it boiled add boiled eggs and cook for five mins
Garnish with coriander leaves.
Serve hot with naan or chapaties.
How useful was this post?
Click on a star to rate it!
Rated 4 based on 1 votes
Be the first to rate this post.