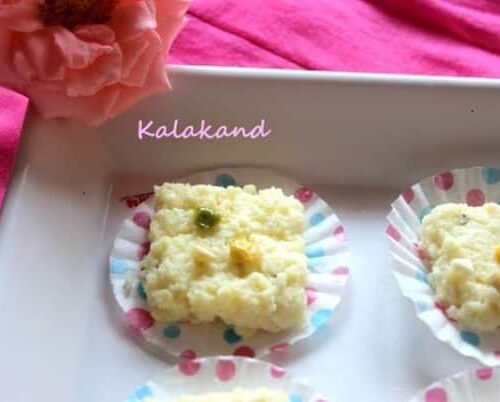 Kalakand also known as sandesh is a very popular and delicious Indian sweet made from sweetened condensed milk, cottage cheese and milk powder. It is a very easy recipe made from just 3 ingredients and with much less effort. An ideal sweet for festivals or any special occasions.
Ingredients  
Paneer or cottage cheese - 250 gms

Condensed milk - 200 gms

Milk powder - 2 tablespoons

Cardamom powder - 1/4 teaspoon

Few almonds and pistachios for garnishing
Instructions 
HOW TO MAKE PANEER KALAKAND RECIPE Soak the pistachios in hot water for 2-3 minutes. Drain the water and remove the skin of pistachios. Chop them into small pieces. Also chop the almonds into pieces and set aside.

Take a cake tin and smear ghee on the surface of the tin. Apply butter paper inside the tin and again apply ghee on the butter paper too. Keep it ready.

Grind the paneer in a mixer to a coarse paste or crumble the paneer pieces by hand. Set aside. _x000D_ Heat a heavy bottomed pan on a low flame. Add the crumbled paneer, condensed milk and milk powder and mix well. Keep stirring continuously to prevent burning at the bottom of the pan.

Cook for few minutes. The mixture will start thickening. Add cardamom powder and mix well. _x000D_ Once the mixture starts leaving the sides of the pan, transfer the mixture to the prepared tin and spread evenly with a ladle.

Allow the kalakand to cool for a while. Garnish kalakand with chopped almonds and pistachios. Cut them into desired pieces. Remove the kalakand from the tin. Separate the pieces and arrange them in a serving plate. _x000D_ Serve delicious kalakand during festivals or parties and enjoy.

NOTES : Always use fresh paneer for making kalakand as sour paneer gives a different taste. It is a good option to use sweetened condensed milk as it is readily available in the market and can make kalakand quickly. You can use different cookie cutters to give attractive shape to kalakand and present it beautifully during festivals or special occasions. Ensure to stir the mixture continuously to avoid burning at the bottom of the pan. Grind the paneer to a coarse and grainy paste and not very smooth paste. This gives a good texture to kalakand.