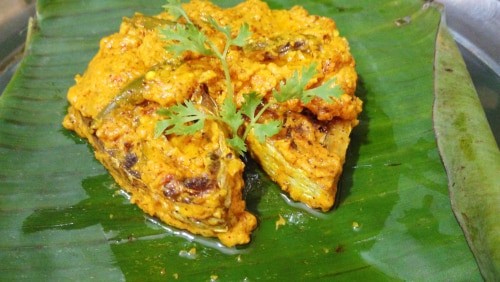 Elish Paturi (Hilsa Fish)
Hilsa fish is soft and delicious. This fish grows in the river Padma which is situated in Bangladesh. Apart from this Hilsa also found in river Ganga, sea, Bay of Bengal. This fish never eat dirt particles. These fishes are choosy they depend on minerals water which found in river Ganga and Padma. Hilsa of Padma river far better than others. It also more cost than others. This fish has no bad odour it smells good. We need very few ingredients to cook.
Ingredients
Hilsa fish 500 grams

Couscous paste 1/2 cup

Bengal gram flour 1 tbsp

Green chilli paste 1 tbsp

Curd 1 cup

Green chilli slices 10-15

Fresh coriander leaves

Mustard oil 1/2 cup

Turmeric powder 2 tsp

Salt to taste

Banana leaves
Notes
This fish named Elish in Bengali. Paturi also traditional recipe in Bengal. So this is called Elish paturi. Bengalees are crazy for this recipe. You can see the pictures how the oil is sweating from the fish that is the beauty of this fish.