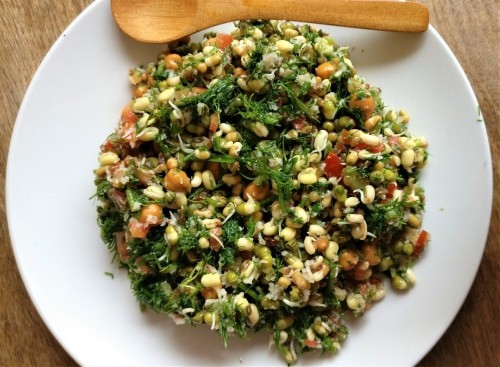 Dill Leaves Breakfast Salad
Dilli leaves salad for breakfast! Really, How will it taste was my husband's first reaction when he was asked (or rather forced to eat salad for breakfast). Raw and plant-based diet can be confusing for people who have been always eating cooked food for breakfast. Eating just a salad for morning breakfast can be overwhelming as the body is used to eating cooked food. More over after eating this light breakfast one will enjoy the lunch meal which can be taken around 12 PM and early dinner at 6:30- 7 PM which means no unnecessary junk in between.
Ingredients
Whole Green Moong Bean

Sprout - 1/4 Cup

Bengal Gram Whole

Kala chana -1/4 Cup

Shredded Fresh Coconut - 2 tablespoon

Tomato - 1

Dilli Leaves

Sabaki leaves - 25 grams
Instructions
Making fresh sprouts at home is always better than buying from the market. Please check out the notes to make sprouts.

Put Spouts (Whole green Moong beans) and Bengal gram whole (Kala Chana) together. Chop tomato.

Sprinkle freshly grated coconut. You might find it fussy to grate coconut but once you have the right gadget, life will be simple. Check out the link for coconut scraper.
Notes
Read my story about weekend preparation which includes sprouts making . Making fresh sprout at home is an easy process and it helps you to ease your life during the busy week.
You can buy coconut scraper to ease your life and nothing beats fresh coconut aroma and taste.