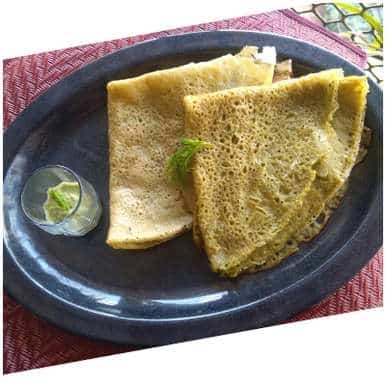 Dill Leaves Crepes Or Shepuche Pole
Shepuche pole or Shepu ghavan or pancake or crepes are made with shepu or dill leaves, jaggary, fenugreek seeds, coconut and rice. It tastes amazing with coconut coriander chutney or hot tea. Healthy, quick to make and require few ingredients.
Ingredients
Rice

Dosa rice – 1 ¼ cup Soaked overnight

Fenugreek seeds- ½ tbsp

Dill leaves finely chopped - 1 cup

Fresh grated coconut - ¼ cup

Grated Jaggery – 1/4th cup

Salt as per taste

Oil – 2-3 tbsp

Water as required to adjust the cosistency

Serving - Coconut coriander chutney
Instructions
Soak rice and fenugreek seeds in water overnight. Next day blend the same in blender till smooth batter.

Blend dill leaves, jaggery, coconut together into fine consistency.

Add salt and water adjust the consistency of the batter to ensure it is not very thick not very thin.

In a nonstick pan drizzle oil. Spread all over with rubber spatula. Pour a ladle full or two, batter evenly in a circular motion into round shape.

Cover it with a plate for 3-5 seconds. Remove plate and flip it when the edges begin to rise from the pan. Cook it from other side too.

Serve hot with coconut chutney or tea, coffee.