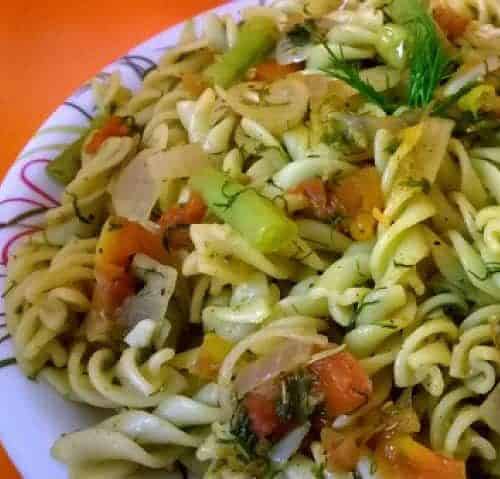 Dill Leaves Green Beans & Tomato Pasta [No Cheese]
Both my husband & me loves Pasta so it is a must cook every week in our home . To satisfy our weekly craving for pasta I keep trying to make healthy versions of it. This is one of the most healthy vegan recipe as dill leave is a source of multiple vitamins & is very low in calories, we all are aware of fiber & protein contents of green beans. Tomato along with Cinnamon powder gives lot of flavor to this dish..Try ....
Ingredients
Whole wheat / Samolina Pasta 2 cups

Green beans Chopped 2tbsp

Dill Leaves Finally chopped 2tbsp

Tomatoes Finally Chopped 2 Large

Cinnamon Powder 1/4 tsp

Mixed Herbs 1/2 tsp

Agino motto 1/2 tsp

Salt to taste

Olive Oil 1tbsp

Onion Long Sliced 2tbsp

Garlic Finally chopped 1/4 tbsp

Green Chili Finally Chopped [as per taste]

Ginger Finally Chopped 1/4 tsp
Instructions
Boil pasta as per the instructions on pack along with some salt & agino moto . Heat a wok . Add olive oil ,ginger,garlic chili & onion. Saute well. Cook for one min on medium flame.

Add tomatoes & beans & cook covered for 5 min on medium flame. Beans are half cooked now & tomatoes become mushy. Mix well. Add dill leaves , cinnamon powder & salt to taste in these veggies . Cook for 2-3 min.

Now your sauce is ready . Mix pasta into it. Add mixed herbs or oregano. Serve hot.
Notes
Although dill leaves give best flavour to this recipe but i see a lot of people don't eat it. You can substitute this with spring onions, or fenugreek leaves. With fenugreek leaves the cooking time will increase by 2-3 min.
You can also add tomao catch-up with tomatoes to give it more colour. But it kills the flavor of cinnamon.