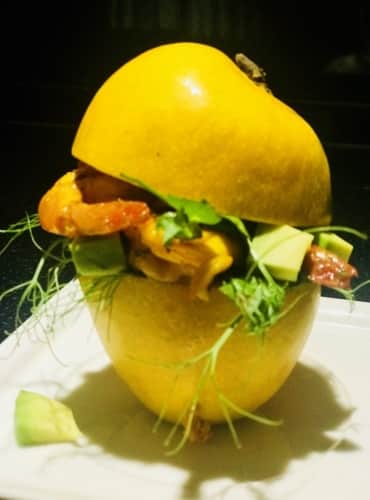 Mango And Lime Marinated Shrimps With Avocado
18 May, 2018
Mango And Lime Marinated Shrimps With Avocado - With the ongoing of summers, Hotel Sahara Star, one of the leading five-star properties, introduces you to their savory mango infused menu that will tickle your taste buds and want to ask for more! We love eating mangoes just when they are ripe but when added to other food ingredients, we know we can't resist. Summers are here and what better way to celebrate than by indulging in some savory mango dishes. Relish a light and bright mango dish that looks fancier and tastes even better.
Ingredients
Shrimps 250 gm

Mango pulp 50 gm

Lemon juice 10 ml

Kasundi mustard 5 gm

Avocado 100 gm

Olive oil 1 tbsp

Snow-peas shoot 20 gm

Chilli flakes

Salt and pepper to taste
Instructions
Take mango pulp put lemon juice, kasundi paste, salt, chilli flakes and make marination

Marinated prawns with the marination and keep a side for 1 hour

Heat the griller pan put some oil and cooked prawns

For platting take whole mango remove seed and stuffed with snow peas shoot avocado, then arrange prawns on it
Notes
More Recipes from Sahara Star:
About Sahara Star Hotel: Sahara Star, the flagship hotel of Sahara India Pariwar, is one of India's most desirable destinations. The 5-star hotel strategically located near Mumbai's domestic airport magnificently blends Indian mysticism and culture, while personifying the country's progressive spirit blending peerless hospitality with ultra-modern technology. Creating a paradigm shift, Sahara Star showcases world largest-pillar-less- clear- to- sky dome, an architectural landmark blending hospitality and entertainment to cater one of the most individualized hospitality experiences.
Hotel Sahara Star features 354 well-appointed luxurious guestrooms with 25 elegant suites.4 specialty restaurants and 1 inimitable journey. Hotel Sahara Star brings together a sumptuous array of delicacies from across the Globe. The hotel features an unbelievable external façade made of glass and steel post completion. Here, the culture, mystique & hospitality of India blend with modern facility & services to create the finest business-cum-leisure hotel of the country