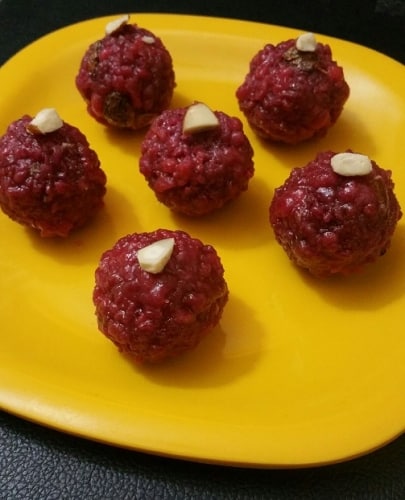 Beetroot Boondhi Ladoo
21 June, 2017
Beetroot boosts haemoglobin levels, lowers blood pressure. It also prevents signs of ageing. Controls diabetes and improves stamina. Works as a body cleanser. Inspired from festive foods , I prepared the sweet The Beetroot Boondhi Ladoo can be offered as Naivedhyam.
Ingredients
gm

flour

Besan – 1 cup

Sugar -1 cup

Clarified butter / ghee – 3 table spoon

Cardamom – 5

Almonds- 5

Raisins – 10

Water – 1/2 cup

Oil/ ghee – for frying

Beet root juice / water – as required
Instructions
Heat a pan. Add ghee/ clarified butter to it and roast chopped almonds, raisins. keep it aside.

Sieve the gram flour, transfer it into a bowl and add beetroot juice to make a thin consistency (flowing).

Take another pan, pour ghee/ oil into it and once the oil is heated , pour boondhi batter (1 ladle) over boondhi ladle and spread it gently to see round shaped boondhi falling in the pan.

Deep fry them on a medium flame. Then transfer boondhis to a vessel and cover with a lid.

Then do the same with the remaining boondhi batter to get more number of boondhis.

Simultaneously, heat water and sugar ( 1 part with 1/2 part) in a pan, let it boil till a half string consistency is obtained then turn off the knob.

Now add ghee/ clarified butter, already roasted dry fruits to it, and mix gently.

Take handful of the above mix and make round ball shaped ladoos.
Notes
The syrup should be of half string consistency.
Beetroot gives it a stunning color as well as acts as a healthy substitute 🙂
Beetroot juice can be obtained by grinding beets in sufficient amount of water and extracting the juice from it.