Delicious And Healthy Quinoa And Kaju Kheer
Recipe Taste
Not Specified
Yield / Serves
4 Servings
Quinoa Kheer: A yummy Indian dessert – Kheer, prepared using super food Quinoa
1 to 1/4 cups water (For cooking quinoa)
1 to 2 teaspoons ghee or butter
4 dates, pits removed and chopped
10 to 12 almonds; slivered
1/4 teaspoon ground cardamom seeds
2 1/2 cups boiled and cooled milk (Weight watchers can use skimmed milk)
A pinch of saffron (Optional)
1/4 cup brown sugar or granulated sugar (Add more or less as per sweet preference)
Rinse the quinoa thoroughly under cold running water until the water turns clear. (Massage the seeds with your hands while rinsing to make sure that you get rid of the bitter saponin completely). Heat water in a wide vessel and bring it to boil.
Add the quinoa into it and stir well.
Simmer the heat and cover the vessel with a lid and cook for 15 minutes or until the seeds become translucent. (Quinoa cooks quickly within 15 minutes so always cook quinoa on a simmer heat and stir once in every 5 minutes.)
Once it's cooked, drain and discard any excess liquid if present. Using a fork, fluff and separate the grains.
In a thick-bottomed stock pot, melt the ghee or butter on a medium high flame. Individually fry the dates, raisins, almonds and cashew in the melted ghee. Roast them until it becomes golden brown. Keep aside.
Now add the cooked quinoa into the pot and fold in the milk, saffron, sugar and powdered cardamom. Bring the entire contents of the pot to a boil on a medium flame, then reduce to a simmer and cook till the liquid volume reduces by one-third.
Stir frequently to make sure the milk does not burn. Once the kheer is ready, add the roasted dates, raisins, cashew and almonds and stir well. (Leave aside a little roasted dried fruit for garnish).
Cool the kheer to room temperature.
Serve hot or chilled and garnish with the extra roasted dried fruit.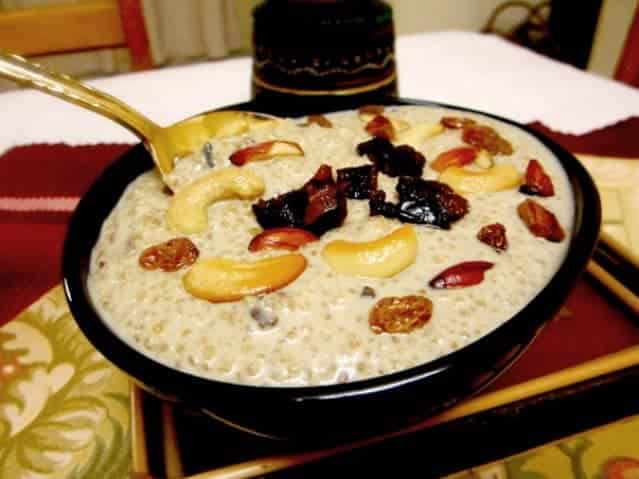 Recipe developed for quinoaguru.com by Donna George – A happy Home-maker and mother to a 3 year old is a passionate foodie and culinary blogger. She blogs at The Culinary Trail, hailing from God's own country, Kerala; she lives in Bangalore with her husband and little daughter. Turning her passion for food into a profession, she is currently a Freelance Recipe Developer and Editor.
How useful was this post?
Click on a star to rate it!
Rated 4.9 based on 11 votes
Be the first to rate this post.