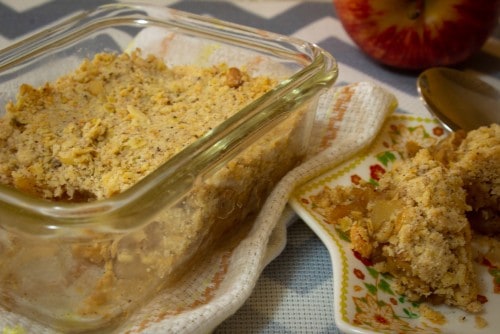 Apple Coconut Crumble
Apple Coconut Crumble is a very humble crumble dessert that can be enjoyed by itself or paired up with cream or ice cream. It is a very easy dessert to bake. All you need to do for this dessert is assemble the apple and crumble mix in a baking dish. Just an hour before serving bake it . By doing so the dessert can be enjoyed warm. Apple Coconut Crumble is a dessert that never lets you down, You can use the green apples or the red apples.
Ingredients
FOR APPLE LAYER: 2 apples peeled and chopped

green or red apple

1/4

teaspoon

of cinnamon powder

2

tbsp

brown sugar

1/4

cup

of water

FOR CRUMBLE: 2 tablespoon plain flour

2

tbsp

oats

2

tbsp

desiccated coconut

2

tbsp

chopped mixed nuts

i used a mix of cashew nuts and walnuts

3

tbsp

chilled butter

1/4

teaspoon

cinnamon powder

4

tbsp

powdered sugar or castor sugar
Notes
You can use oats flour instead of plain flour. Some berries could be also added to the saucepan along with the apples.