Waffles have always been somewhat of a comfort food for most of us. Waffles originated in Brussels and have taken the world by storm! They're light, fluffy, and can be customized in SO MANY WAYS, that it's the perfect treat for adults, kids, and just everyone in between! Waffles are usually a treat served in cafes as a breakfast meal, or can sometimes also be eaten as a dessert in itself, topped with maple syrup and whipped cream. "However, it's almost always misunderstood that waffles are nothing but fancy pancakes and this couldn't be further from the truth. IIt's all the more difficult to break that misconception, now that everywhere you go, you'll get pancake batter shaped into waffles, and that isn't doing justice to this beautiful treat" – Says Mr Chetan Kedia who has started Waffle Walle and is ready to change this misconception.
It's a great mix of a filling meal and the right dessert, so when Mr. Chetan Kedia came up with the idea of the real recipe for waffles, it was taken VERY WELL! Waffle Walle, in its almost two years of existence, has made quite a niche place for itself at Royal Meenakshi Mall on Bannerghatta Road.
Read on to know EVERYTHING there is to know about Waffles, why they have the appeal, why they've taken the world by storm, and why they've been so misinterpreted along the way.
Waffles: Not Just One
In the US, there's always been an understanding that if you're tired of your boring old pancake, all you have to do is get the handy waffle maker and you'll have pancakes with a new shape! Waffles are a lot more than that. They're a recipe purely originating in Brussels and moving out to the rest of the world, taking on different forms.
However, in the traditional style, there are two broad kinds of waffles; one is the Brussels Waffle and the other is the Liege Waffle. Not many know about the Liege Waffle, It's named after a small town in Belgium and unlike the Brussels waffle which is batter based, the Liege waffle is dough based. Clearly, the taste will be different, and obviously delicious. (has anyone heard of a not delicious waffle?)
Liege Waffle on the left. Brussels Waffle on the right in the image below
The Liege Waffle is a lot sweeter and denser than Brussels waffle and tastes a lot like cake, with a very soft core and slightly crisp outside. So, it's ideal for a heavy breakfast, or as a meal of its own. They also don't have a square shape, unlike the Brussels Waffle. Waffle Walle ONLY store in Bangalore that serves the Liege Waffle.
The Brussels waffle, by contrast, is very thin, crispy, and light. So that's your go-to snack for a hot cup of coffee on a windy evening! So, what kind of waffles can be there? HUNDREDS! But there are a few classics that won't die out; the classic fruits, the chocolate, the cream, and the sugary burst!
Brussels Waffle with strawberries, hot chocolate, and ice cream
It's as appetizing and drool-worthy as it looks! The waffle is a Brussels waffle since it has the proper shape, and is thin and light, with a crispy outside. It's topped with defrosted strawberries, Belgium hot chocolate, vanilla ice-cream and powdered sugar. This is a perfect treat for kids and adults alike!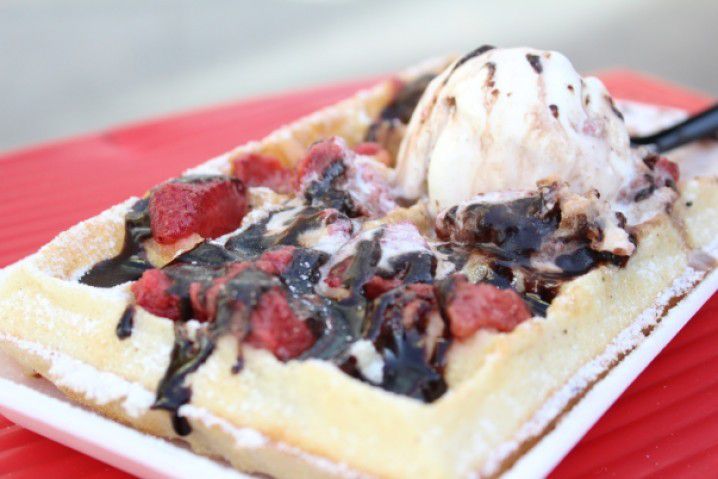 This one's another crowd favourite! Especially appealing to kids more so than anyone else. It's a Liege Waffle, as is evident in the uneven shape, topped with a dallop of whipped cream, vanilla ice cream, and Belgium chocolate, along with Oreo chunks. It's a full eal of its own, so make sure you have the space for it!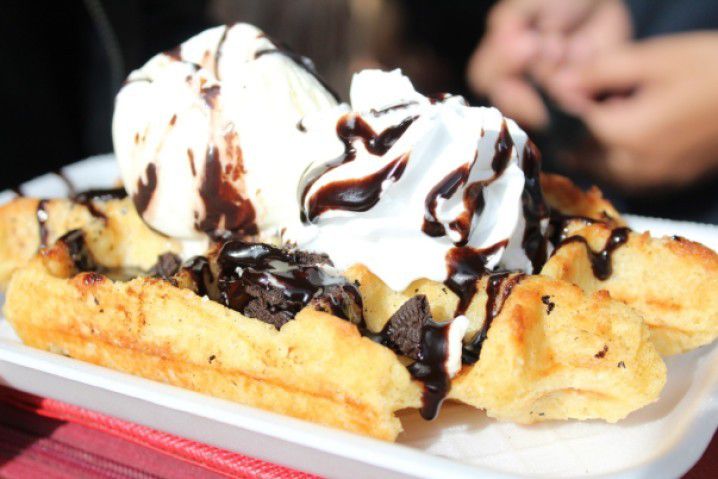 This one's for those of us who can't just have any fruit on our waffle! Pineapples! If there are any more ways of eating pineapples, we'll gladly try them! This one's a Brussels Waffle with fresh pineapple, a huge dallop of whipped cream and vanilla ice cream to go with! Not to forget the icing sugar, that just adds to the sweet!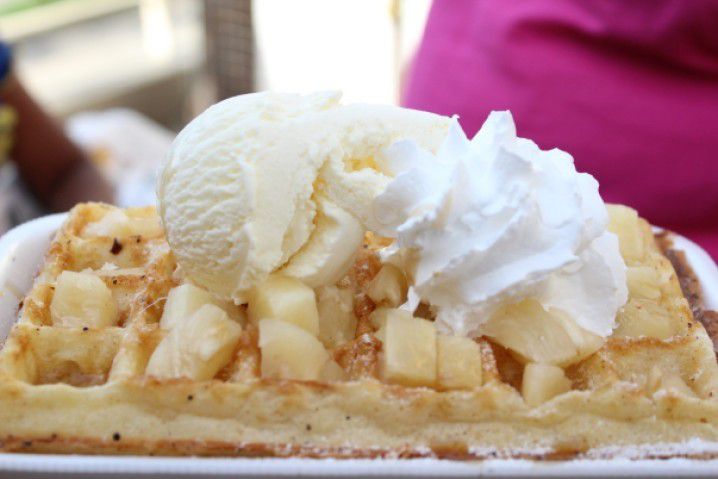 Yes, it tastes as good as it sounds AND looks! This one's a Liege Waffle, and pretty heavy and filling, Topped with two dollops of whipped cream, SO much Belgium chocolate sauce, and that icing sugar to make it prettier (and yummier) than it already looks . We could have a hundred of these at one go!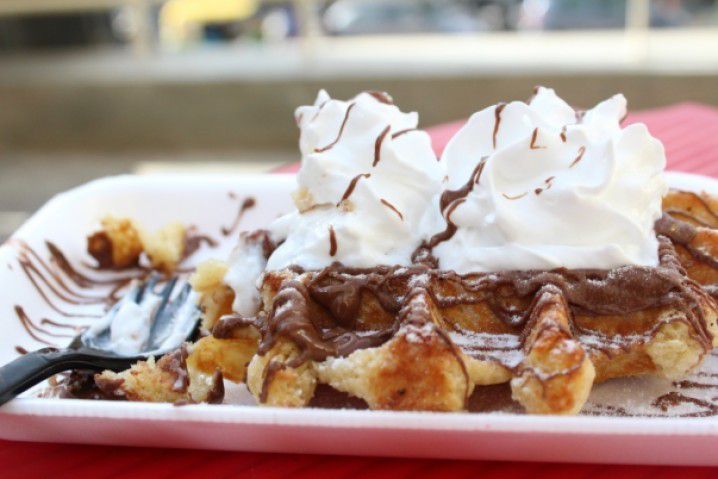 The classics never fail to impress, do they? This is the traditional style of eating a waffle. You can replace the ice cream with a dollop (or two) (or three) of whipped cream, and top it up with a lot of icing sugar! This one's great if you're getting used to the taste of Liege Waffles and don't want some over-whelming toppings.
Waffle with Strawbettery, Icecream, and Belgium chocolate sauce
Another traditional crowd pleaser! Strawberries (and any other berries for that matter) are some of the best toppings for waffles and pancakes alike! They add a zest and zing to a sweet dessert (or meal). More so, you can never really go wrong with a combination of strawberry and chocolate. The ice cream there is just for good measure!
So, here's a healthier (maybe?) version of the waffle! If you want more than just the zing of strawberries, then opt for all kinds of fruits to top your waffle with. This is a great option for breakfast since, it'll give all of that fruity flavour, and the ice cream and waffle together will fill you up nice and good! Sprinkle on some powdered sugar too if you're feeling it!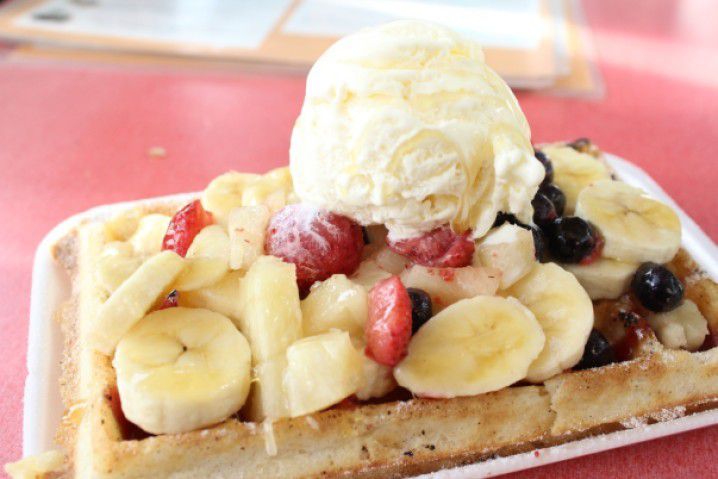 All the information has been shared by Mr Chetan Kedia, who is the founder of Waffle Walle. The Pictures has been clicked during the interview with Mr Chetan. If you have an interesting Food story and would like to feature it. Drop us the mail at [email protected]