Just like healthy relationships, healthy habits are crucial. With so many people becoming vegan these days, the search for an alternative for Dairy milk is at peak. Almond milk, unlike your regular cow milk, is satisfying and very yummy because of its creamy and nutty taste. It's also is an excellent option for people who are lactose intolerant. It doesn't matter if you are sensitive to milk, vegan or just don't like the bland taste of cow milk. Almond milk is here to your rescue!
You can find plenty of variations in the supermarket, but why go there when it is very easy to make it at home. Also, the readymade ones are generally diluted which tones down the fibre and nutrients. Homemade almond milk is rich in good fats, minerals, vitamin A, E and D. 
Although our mothers say that a glass of cow's milk every day will keep you away from any illness, almond milk stands out since it is free from sugar and cholesterol. Cow's milk, although a great source of calcium and protein, almond milk is low fat, has fewer carbs and is high in energy, lipids and fibre. It's a blessing for people who are on a diet but aren't willing to compromise nutrition.  One cup of almond milk meets 50% of our daily nutritional requirement. Regular consumption of nuts reduces the risk of heart diseases. The nutritional value of almond milk is almost the same as that of the healthy rice.
Almond milk doesn't require any refrigeration as such. This means you can conveniently take it along with you to office, picnics and camping trips. The best part about making almond milk on your own is that you have the flexibility to customize it. Let's take a look at how Priyanka G Mehta likes her almond milk.
Procedure: Soak one cup of almonds in 3-4 cups of water overnight or for 8-10 hours. Alternatively, you can soak them in hot water for 1-2 hours also.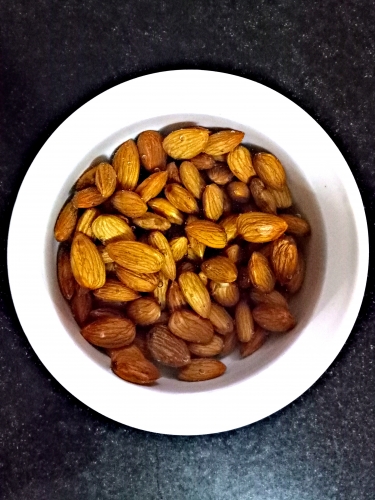 Peel off the skin from the soaked almonds and blend them in a blender jar with 4 cups of water to form a smooth and uniform puree.
Line a kitchen sifter with a muslin cloth or a cotton kitchen towel over a bowl. Pour all the blended mixture over it. Squeeze out all the milk leaving out the pulp behind. This pulp can be used in thickening curries and making bakery items.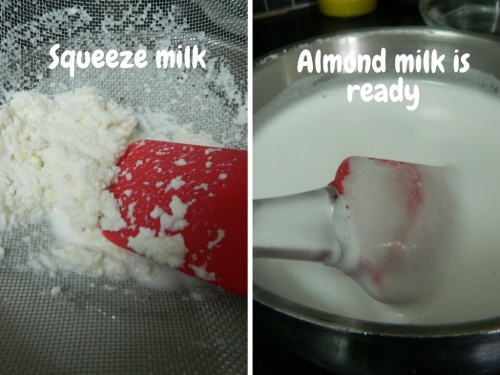 Store the almond milk in a glass or steel bottle inside the fridge. It stays fresh for 3-4 days. Shake well if it looks contents separate out.
Nutrition: Let's take a look at why you should choose almond milk over cow's milk and soy milk.
 Particulars

Cow's Milk

(whole, Vit D added)

Soy Milk

(unsweetened, Calcium, Vit A, D added)

Almond Milk

(unsweetened)

Calories(g)

149

80

39

Protein(g)

7.69

6.95

1.55

Fat(g)

7.93

3.91

2.88

Saturated Fat(g)

4.55

0.5

0

Sugar(g)

12.32

1

0

Calcium(mg)

276

301

516

Vitamin A(IU)

395

503

372

Vitamin D(IU)

124

119

110

Cholesterol(mg)

24

0

0
Data Source: Wikipedia
Why should you choose almond milk?
Almond milk is naturally rich in vitamins and minerals, especially Vitamin E. Vitamin E can work wonders for your skin and hair. It is full of antioxidants that help in achieving flawless skin. It also protects the skin from the harmful rays of the sun.

It is a boon for people who are lactose intolerant or diabetic since it is lactose and sugar-free. Having a cup of almond milk will reduce your chances of getting a heart attack and reduce the bad cholesterol. It has low sodium and enriched in omega fatty acids.

A cup of almond milk every day will help in maintaining blood pressure. Irregular movement of blood in the heart can pose a life-threatening condition.

Excess amounts of calcium and protein can accumulate in kidneys. Almond milk is a fabulous alternative for people who are suffering from chronic or acute kidney diseases.

It fulfils 25% of daily requirement of Vitamin D, reducing the risk of osteoporosis and arthritis. According to a recent study, almond milk has been proven to reduce the growth of prostate cancer cells.

Presence of Vitamin A ensures the regulated functioning of eyes. The harmful rays radiated from TVs, laptops and smartphones can affect your vision. Intake of vitamin A will help minimise the effects.

Almond milk contains enough fibres to keep a check on your bowel movements. Almonds also contain folic acid which prevents birth defects. Often, pregnant women are asked to increase their intake of almonds for a healthy growth of the foetus and reduce NTDs ( Neural Tube Defects).
Although the cow's milk is a good source of protein, it is clearly very high in fat, calories and cholesterol. Also, it contains tree nuts which may cause certain allergic reactions like uneven breathing, red spots on skin and unconsciousness. Hence, the choice should be completely based on dietary preferences.
 So go ahead and make ice creams, smoothies and porridges with a twist of scrumptious nutty taste. Use the leftovers as a cleansing lotion. Just mix it with some rose water and apply it to cool down the sensitive skin. Let everyone become a fan of your cooking skills!
Reference: Link1 , Link2 , Link3
About the Author:  Priyanka Gandhi Mehta is a complete Foodie who loves to eat and cook. She shares her passion for cooking on her blog Flavored with love by Priyanka where each and every dish which is cooked is prepared with lots of love. Learning is an ongoing process for her and she learns from all the sources be it recipes from internet, TV, acquaintances, relatives or friends and finally gives her special touch to each dish.
The sound of cumin seeds crackling and the smell of freshly ground garam masala just excites her.  Priyanka Gandhi, ever smiling girl loves to be in her kitchen experimenting something new. You can follow Priyanka on her blog Flavored with love by Priyanka, Plattershare  or  Facebook Page