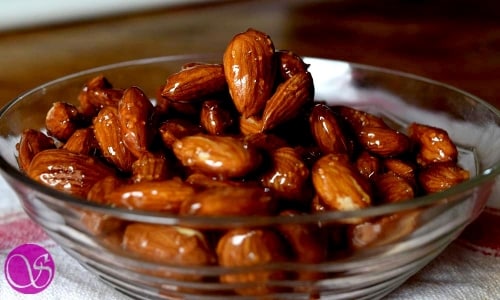 How To Make Quick And Easy Honey Glazed Almonds
10 August, 2017
Snacking with Honey Glazed Almonds Food and beverages that we eat in between our regular meal is termed as snaking. Honey glazed almonds are also great snacking option. No matter what time of a day you feel like eating snacks, these honey glazed almonds are a perfect companion of all times.
Typically snacking is not looked at as a good habit. It is because snacks are mostly referred to high calories and fatty foods e.g. cookies, cakes and wafers. Honey glazed almonds, on the contrary, is a healthy snacking option that even your dietician will like you to eat.
Healthy snacking vs unhealthy snacking. Whether snacking leads to weight gain or weight loss is no proven theory behind that. Few claim snacking to increase metabolism, but again there is no scientific research that proves the same. Healthline released a beautiful, evidence based article and wrote in detail about healthy and unhealthy snacking.
Concluding many research's together, the fine line is to choose healthy snacking option. You may snack to prevent hunger or may be to eat smaller portions thorough out the day. The reason could be different, but the choice should be healthy.
In healthy eating habit one of the suggested step is to replace unhealthy snacks with healthy snacks. Honey glazed almonds would be a good replacement. Almond and Honey benefits.
Almonds are a great source of vitamin E. Along with vitamin E, Almonds are also source of vitamin B2, magnesium, phosphorus, manganese, biotin, and copper. Interestingly, more than 60% of the fat that almonds contain are monounsaturated fat that helps in lowering cholesterol.
On the other side, honey prevents cancer and heart diseases. I always depend on honey and turmeric when it comes to treating cough and throat irritation. Honey also helps in regulating blood sugar and its probiotic nature increase good bacteria in the body.
When combined together, almond and honey benefit the entire body system. Heating effects on Honey. Pure honey can stay unspoiled for thousands of years. A spoon of honey with Luke warm water helps in cutting down the fact, however, boiling or heating honey directly is never a good idea. Temperature more than 37 Degree Celsius (98.6F) has detrimental effects on the nutritional values of honey.
Healthy Roasted Almonds recipe with Glazed Honey. Honey glazed almonds with a hint of salt, is my favorite tea time partner. This recipe is a tried and tested recipe that satisfies the need of both, sweet and salty, snacking. Therefore, I consider this as the best honey roasted almonds recipe.
Instructions
For this recipe all we need is Almonds, Honey, Sugar and salt. It is such an easy recipe that you can prepare in no time.

First of all, keep your oven for preheating at 200 degree Celsius for 10 minutes. I always recommend to preheat the oven prior to baking. Preheating helps in even baking.

Line a baking tray with parchment paper and spread almonds on it. Bake these almonds in the preheated oven for 10 minutes.

I like the granules of sugar on my roasted almonds, hence I heated the solution only for 2-3 minutes.

This saves the honey to get over heated and spoil. If you want to dissolve the sugar completely, then first heat sugar and once it is caramelized, add honey.

While baking, place the tray on middle rack and use only bottom coil. Once roasted, take out the almonds from oven.

Coat roasted almonds with prepared sugar honey syrup and spread on a butter paper. Let them cool completely.
Notes
Store these honey glazed almonds in an air-tight container. I prefer to store them in refrigerator.
If you don't have Oven, you can dry roast almonds in any non-stick pan.
Nutrition
Calories:
135
kcal
Carbohydrates:
8
g
Protein:
4
g
Fat:
10
g
Saturated Fat:
1
g
Polyunsaturated Fat:
3
g
Monounsaturated Fat:
7
g
Trans Fat:
0.003
g
Sodium:
49
mg
Potassium:
155
mg
Fiber:
3
g
Sugar:
5
g
Vitamin A:
0.2
IU
Vitamin C:
0.02
mg
Calcium:
56
mg
Iron:
1
mg