Are you trying to lose weight and yet struggling with your sugar cravings? Well, let's help you kill two birds with one stone with almond milk smoothies. Worry no more, the expert explains that these recipes help you choose the best healthy smoothie.
Make your life easier with almond milk smoothies, not only are they easy and super quick but also these smoothies come with excellent nutrition to help you start the day. Almond milk is a healthy choice for your hectic mornings, besides being dairy-free and loaded with proteins for bodybuilding, you can drink your breakfast as you run out of the door!
Whether you're interested in a great snack, quick breakfast or maybe an excellent dessert, this article has your needs in check. Below are some of the best healthy smoothie recipes almond milk.
Best Healthy Smoothie Recipes
Do you know how to make a simple healthy smoothie? Here are some of the most healthy smoothie recipes you'd want to grace your breakfast with. Everything you need to prepare a healthy smoothie is just the best blender for green smoothies.
 The Chocolate Banana Smoothie
Smoothies can have some chocolate in them, can't they? Why not try this chocolate banana smoothie and see what a touch of chocolate has to offer. Are you craving for chocolate? Do you want to stay healthy? This is a simple, healthy smoothie for you. Just add cacao to increase the mineral and fiber content for a chocolate alternative.
What ingredients do you need?
Cacao powder – 2 spoon scoops

Medjool dates – 4

Unsweetened almond milk – 3 ounces

Banana – 1
Use the blender to blend the powder, banana, and cacao to form a paste. Once you've done this, add almond milk and continue blending until it becomes smooth.
Pumpkin Pie Smoothie
Now this one is the best healthy smoothie for pumpkin lovers. The recipe has a pumpkin spice latte flavor minus all the sugar. Just frozen bananas and real pumpkin, in 5 minutes you're able to come up with a grab and go breakfast smoothie. The pumpkin pie smoothie is good for bone health, egg-free, boosts immunity, healthy pregnancy and gluten-free.
Ingredients:
Plain whole-milk Greek yogurt – 1/3 cup
Canned pumpkin pie spice – 1/8 cup
Unsweetened almond milk – ½ cup
Pure maple syrup – 1-2 teaspoons
Pumpkin puree (canned) – 1/3 cup
Place the ingredients in a blender and blend till smooth.
Cherry-Berry Oatmeal Smoothies
Want a simple, healthy smoothie? The cherry-berry oatmeal smoothie will add you more power and fuel your morning. This smoothie has an excellent nutritional profile; it's soy-free, appropriate for diabetics, high fiber content, egg-free and even fit for vegetarians.
What are the ingredients?
Water – ½ cup
Almond milk – ½ cup
Rolled oats preferably quick cooking – 1/3 cup
Partially thawed unsweetened dark sweet cherries – ½ cup
Almond butter – 2 tablespoons
Partially thawed unsweetened berries
Honey – 1 tablespoon
Ice cubes
Combine the oats and water in a medium bowl then microwave it for a minute, stir in a quarter cup of milk and then continue heating for 40 seconds more until the oats are tender, then cool them for 6 minutes.
Together with the oat mixture, combine the remaining ingredients, blend the mixture then add ice cubes and continue blending until smooth. You can spice up the servings with some additional fruits. This recipe can make up to six servings.
Beet and Berry Smoothie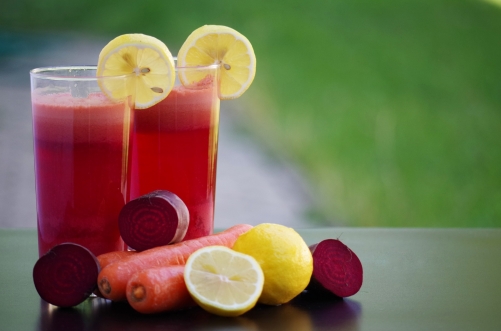 When it comes to calories, the beet and berry smoothie is a healthy smoothie to consider. This best healthy smoothie has low calories, high levels of vitamins to lift your mood, good flavor and tons of antioxidants. When it comes to handling the beetroot, you might consider different options;
a) If your blender is good, just peel the beetroot and toss it in the blender and you can be sure to enjoy the freshness and good taste.
b) On the other hand, you can peel the beetroot, boil it then finally toss it in the blender.
Ingredients needed:
Beetroot, medium size
Blueberries – ½ cup
Unsweetened almond milk – 3 ounces
A banana
Put all the ingredients in a blender and blend until you achieve the consistency you see fit.
Mango Pineapple Ginger Smoothie
Mornings can be so moody and even at times tough. Are you looking for healthy smoothie drinks to raise your moods and get you psyched up for the day? The mango pineapple ginger smoothie is the healthy smoothie breakfast you should consider. It comes in sweet flavors to sort out your sugar cravings and an excellent immune booster.
What ingredients do you need?
Pineapple cubes – 1 cup
Grated ginger – ¼ teaspoon
Mango cubes – 1 cup
Ice cubes
Unsweetened almond milk – 2 ounces
Toss all the ingredients in a blender and blend until smooth. Of note, the ice cubes require a high power blender to blend correctly.
Conclusion
These almond oil recipes can be entirely different from another, and this gives you lots of options to choose from. Make your choice today and enjoy the creaminess that you like without adding calories and even better free from lactose.
What's your best healthy smoothie? Share with us some tips on how to make a good healthy smoothie.