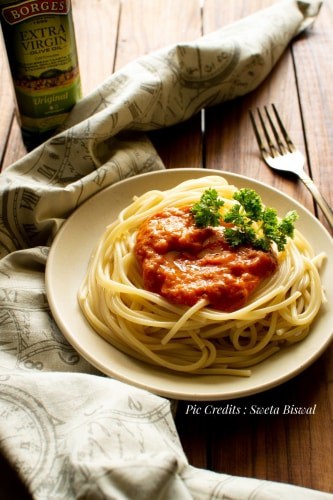 Spaghetti Alla Marinara Vegan
This Vegan Spahetti Marinara is everything you need to satisfy the cravings of a big pasta loving family. The tang and juiciness of the tomatoes, the garlicky notes and that kick that comes only from a generous dose of extra virgin olive oil . The sauce takes a long time to cook. But it is worth all the patience. One can cook a large batch and refrigerate it for up-to 10 days in a sterile jar.
Ingredients
300

gm

Spaghetti

200

gm

ripe tomatoes

1

medium white/yellow onion

2-3

garlic cloves

Salt

3 1/2

tbsp

Olive oil

Fresh herbs

Parsley or Italian Basil

Paprika

optional but gives a nice kick to the sauce
Instructions
Put the tomatoes in boiling water for 5 mins. Switch off flame but let the tomatoes sit in hot water for 10 mins.

Remove the skins and tear up the tomatoes using your hands. Transfer to a saucepan.

Roughly chop the onion and add to the saucepan. Peel and crush garlic . Add to the saucepan.

Add 3 tbsp olive oil, Salt and paprika along with 1 cup hot water. Place the saucepan on a low flame and let it simmer for 20 mins.

Use a heavy spoon to crush the ingredients against the sides of the saucepan.

Let it simmer for another 20-25 mins. Remove and keep aside.

Boil about 3 liters of water in a deep saucepan.

Once it starts to bubble, add salt and let it come to a rolling boil. Add the spaghetti .

Once the spaghetti is cooked aldente, strain it using a metal collander. But do preserve a cupful of the pasta water if needed later for thinning the sauce.

Heat the remaining olive oil in a skillet. (Add a crushed garlic for extra flavor)

Add the pasta and give it a gentle toss to coat the strands with olive oil .

Add a cupful of the marinara sauce and a little pasta water to the Spaghetti.

Toss together and cook for 2 mins.

Garnish with fresh herbs just before serving.
Notes
Giving a good shake to the pasta after straining prevents the pasta from sticking to each other.
But in case it has become a little softer than intended,  add some olive oil and toss it to prevent stickiness.