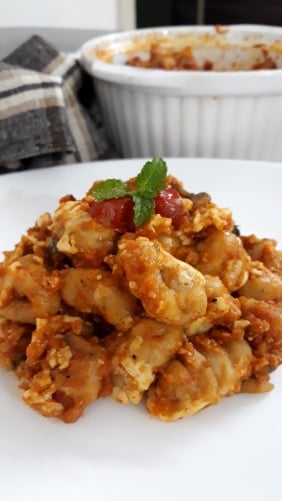 Gnocchi Alla Romana ~ Eggless
16 April, 2018
Gnocchi are small potato dumplings mostly associated with Italian cuisine. Gnocchi are a good alternative for pasta and can be served in any which way. I've made it eggless, using potatoes and whole wheat flour. Baked to perfection in homemade Italian Marinara sauce by adding some vegetables to give a twist. Added some cheese for my son to enjoy🧀.. but you can omit it if you don't like cheese or if you're #vegan
Ingredients
For gnocchi; Potatoes baked or boiled 300 g

Wheat flour 3/4 cup

Salt to taste

Garlic powder or crushed 2 tsp

Parsley fresh or dry 1 tsp

Milk if needed

a few teaspoons

Any oil 1/2 tsp

For the sauce 3 large tomatoes blanched

3-4

garlic cloves

1

small onion chopped

Salt to taste

Pepper to taste

Herbs and seasonings

Oil 1-2 tsp

For vegetables 8-10 button mushrooms

1/2

yellow bell pepper

1/2

green bell pepper

Cherry tomatoes 8-10

Oil 1-2 tsp

Cheese slices or grated cheese

optional
Notes
This can be made in white sauce too.
Traditionally they are made using eggs. You can add one egg if you like. But I used little milk to bring the dough together. If you are on vegan diet you can use any dairy free milk or even water for the same.
Gnocchi is a very good alternative for pasta. All the recipes that calls for pasta can be substituted with gnocchi.ive made in garlic and parsley flavour. These can be made with many more flavours.
So tasty and very light on stomach… perfect for breakfast and dinner.