Soya Vadi – Jalape??±O Cheese Balls
Yield / Serves
4 Servings
Very good Party starter for all and who don't like Soya chunk.
1/2 cup Soya chunk or granules
2 medium size boiled potatoes
1/2 tsp ginger garlic paste
2tbs pickled jalapeño, cut into small chunks
50 gm mozzarella cheese,cut into small chunks.
1/4 tsp Italian seasoning
1 cup vegetables stock or water
Parsley, basil leaves and tomato ketchup for Garnish
Soak soya granules in lukewarm water or vegetable stock for 15 minutes. Drain soya granules and transfer in a mixing bowl. Add mashed boiled potatoes, jalapeño chunk, salt, pepper, Italian seasoning, chilli flax, ginger garlic paste. Mix it.
Now take a small portion of mixture on palm and flatten little, put some cheddar cheese and mozzarella chunk in it, make a ball. Cover it by bread crumbs dusting.
Make all the balls and put it into refrigerator for 10 minutes. Now mix cream cheese and red sauce and make a dip.
Heat a fry pan. Remove all balls from refrigerator and fry them on medium heat.
Serve hot soya vadi - jalapeño cheese Balls with dip along parsley and basil, tomato ketchup garnishing.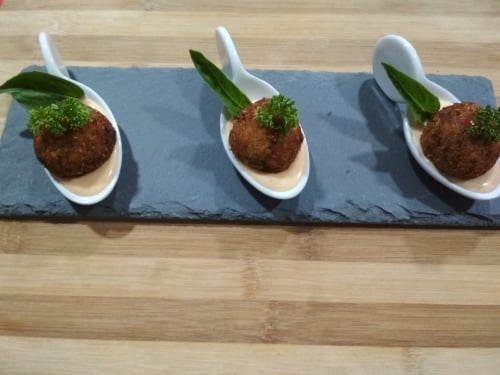 How useful was this post?
Click on a star to rate it!
Rated 5 based on 2 votes
Be the first to rate this post.