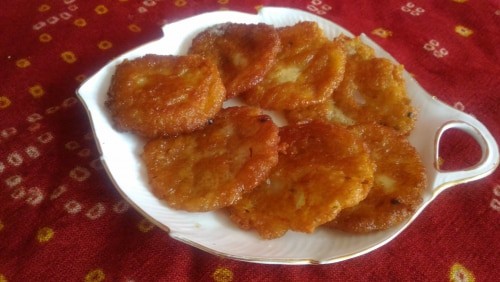 Paneer Malpua
9 May, 2018
Ingredients  
Milk - 1 liter

Lemon juice - 2 tbsp

All purpose flour - 2 tbsp

Cardamom powder - 1 tsp

Salt - to taste

Baking soda - 1 tsp

Sugar - 1 cup

Water - 1 cup

Saffron - few threads

Oil - for frying
Instructions 
Boil one liter milk in a heavy bottom vessel. Once boiled switch off the flame. Add lemon juice and cover the milk. After some time milk is fully curdled,strain the paneer and wash 2 to 3 times in a fresh water.

Now we got soft paneer,we mash the paneer very well. We add all purpose flour,cardamom powder and baking soda and mix well. Knead to make smooth dough,cover the dough with muslin cloth for half an hour.

Take a pan add sugar and water and saffron threads,keep it medium flame for 8 - 10 mins. When it gets stick it means syrup is ready Heat enough oil in a pan to deep fry the paneer malpua. Take a flat patties of medium thickness from the dough

Not to thin or to thick. Drop it in medium hot oil and let it fry until golden brown. Once done,dip it immediately in the hot syrup. Serve hot.