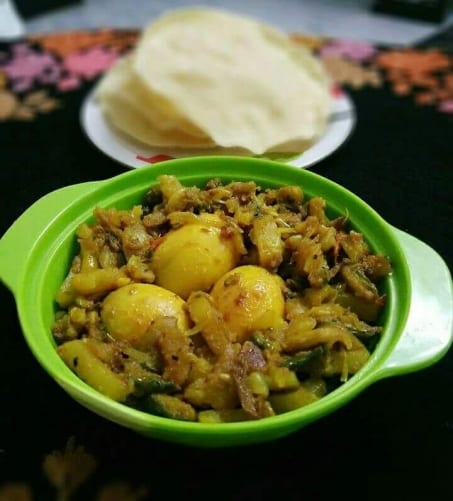 Potato Bittergourd With Egg Fry
10 July, 2018
A quick and easy side dish recipe perfect for your roti/rice and dal. It is a delicious and soulfood dish.
Ingredients
Potato 2 sliced

Egg - 3 hard boiled

Bittergourd - 2 thinly sliced

Onion - 1 finely slices

Tomato - 1 small chopped

Green Chilly - 4-5 slit or chopped

Ginger Garlic paste -1 tsp

Punchpuran - 1 tsp

Turmeric powder - ½ tsp

Garam masala powder - 1 tsp

Chilly powder -1 tsp

Oil - 2-3 tbsp

Salt to taste
Instructions
Heat oil in a pan, add the punchpuran and let it crackle.

Add the ginger garlic paste and saute for a min. Add the onion, green chilly, salt and fry till onion turns soft. Add the tomato and fry till mushy.

Add the garam masala, turmeric powder and the chilly powder and mix well.

Now add the egg, bittergourd and the potato and mix it well altogether. Cover the pan with lid and fry in low heat stirring it frequently to prevent from burning.

Fry till bittergourd and potatoes are cooked and soft. You can add chopped leaves and give a quick stir and turn off the heat.