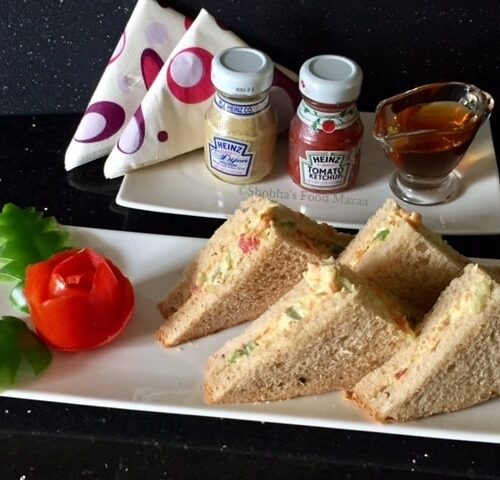 Honey And Hung Curd Vegetable Sandwiches
21 August, 2017
Healthy and delicious vegetable sandwiches made with multigrain bread and a filling of hung curd, honey, home made eggless mayonnaise, carrots, cucumber, tomato, bell pepper seasoned with mustard sauce, black pepper and red chilli flakes.- make and enjoy them any time of the day !
Ingredients
Multigrain bread 4 slices or as required

Carrot 1 small

Cucumber 1 small

Tomato 1 small

Green Capsicum 1 small

Honey 3 tbsps

Hung curd 3 tbsps

Eggless mayonnaise 1 tbsp

Mustard sauce 1 tsp

Salt to taste

Black pepper powder 1/4 tsp

Red chilli flakes 1/8 tsp
Instructions
To make the hung curd take a muslin cloth and put 2 cups of yogurt. Hang the bundle on the tap for 5-6 hours until the water is completely drained out.

Wash the carrot and cucumber, peel and grate them.

Remove the seeds and water from the tomato and cut the outer part into tiny pieces.

Cut the capsimum into tiny pieces.

Now take the hung curd into a larger bowl and add all the ingredients. Squeeze out the water from the cucumber. Mix everything together.

Spread the filling on a bread slice and place another one on top

Cut them into half or quarters if the bread slices are large. Serve them any time of the day.
Notes
Serve them immediately after making.