There are some recipes which even the seasoned home cook struggles to perfect and Basmati Rice definitely falls into that category. Just the sheer varieties of basmati rice available in the market make it difficult to get the proportions right and questions like "How long to cook Basmati Rice?" are bound to crop up in the minds of amateur home chefs. Basmati Rice is definitely a favorite in Indian households and its simple combination with Dal Fry is loved by many and it doesn't stop there, there are many recipes like Basmati Rice Pulao/ Pilaf/ Biryani with multiple combinations of vegetables and meat and other variety rice that can be made. Plattershare continues its "How to" series with "How to cook Basmati Rice". Follow these simple steps where Home Chef Geeta Biswas teaches to cook fluffy and perfect basmati rice and you will always end up with the perfect aromatic bowl of cooked Basmati Rice.
Before we start, let's quickly look at basmati rice health benefits – Basmati has a lower number of calories compared to other long grained rice. It is gluten-free, low in fat, and has no cholesterol. Along with that it possesses essential amino acids and is light and fluffy in texture. 1 cup of cooked white Basmati rice contains approx. 190 calories. Go for brown Basmati rice if you are a fitness enthusiast and are looking to curb those extra calories without compromising on taste.
Basmati rice vs Jasmine rice – Both of them are aromatic varieties of rice (albeit slightly different aromas). Jasmine rice originated from Thailand whereas Basmati originated from the foothills of the Himalayas in the Indian subcontinent. Jasmine rice has a slightly stickier texture and is generally cooked by steaming or absorption method.
Before we dive right into the method, here's a fun fact for you – Did you know that a company in Texas, US once tried to file a Basmati Rice patent which was strongly contested by the Indian government, and was settled by limiting the patent to a few varieties of Basmati.
Basmati rice cooking instructions
Take 1 cup Basmati rice, preferably aged Basmati rice as it gives a better aroma.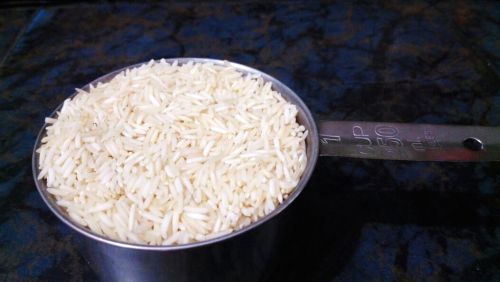 Wash it nicely with tap water. For washing, fill the vessel with water till the rice is completely covered and then gently run your fingers through the rice and drain the water. Repeat this process at least 3 times to get rid of excess starch. This helps in keeping the rice grains separate while cooking.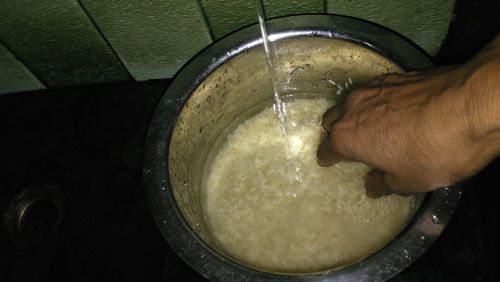 Normally, no soaking period is required for aged Basmati rice. However, non-aged rice should be soaked for 30 minutes prior to cooking.
How much water is needed to cook basmati rice is the most important factor to determine whether you will get a perfect fluffy basmati rice or not. And here is the secret -Take 2 cups of water in a flat-bottomed vessel and bring to a boil. Once the water comes to a boil, slowly add the washed and strained rice. This will bring down the temperature of the water. Cook the rice at 100 degrees Celsius/500 watt on an induction top.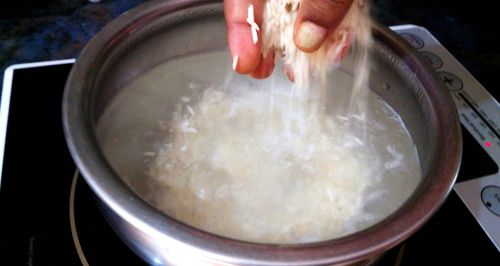 Add a tsp of ghee (clarified butter) to keep the grains separate and it also adds to the aroma of the cooked Basmati. Optionally, you can add a pinch of salt.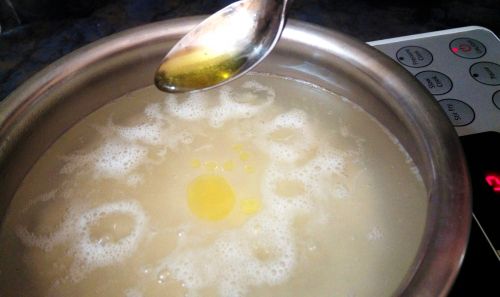 Cover with a lid, till the water again starts boiling. Once it reaches the boiling point again, remove the lid to prevent spill over. Once the boil has settled, you can cover with the lid again and let it cook for 15 mins.
Check for the doneness of the rice. If you have followed the steps correctly, then the rice grains should be soft and fluffy.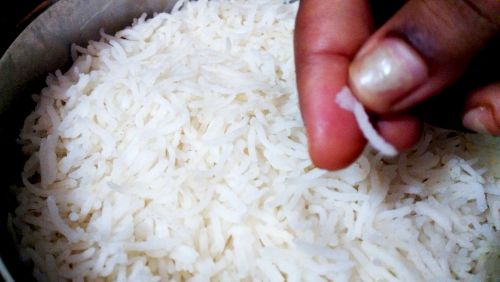 Take it off the gas/induction and let it stand for around 5-10 mins. And voila! That's it you have the perfect bowl of the finest aromatic basmati rice ready!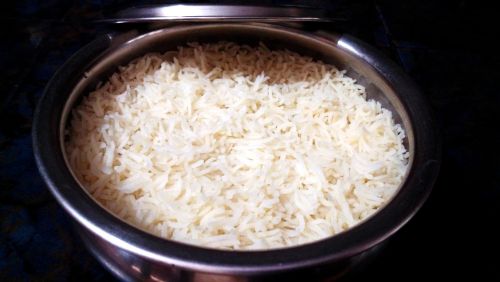 Serve hot with dollops of ghee (clarified butter) on the side.
About the Author: This Recipe has been shared by home chef Geeta Biswas who's simple yet experienced home maker. She feels that just like kids grow up with their toys, in the same way, she has grown up with her recipes. Ingredients are her tools and she loves making innovative recipes which have built up her identity. Read the amazing story of Geeta Biswas, unstoppable home chef who is an inspiration to many as she has cooked 300+ innovative recipes.