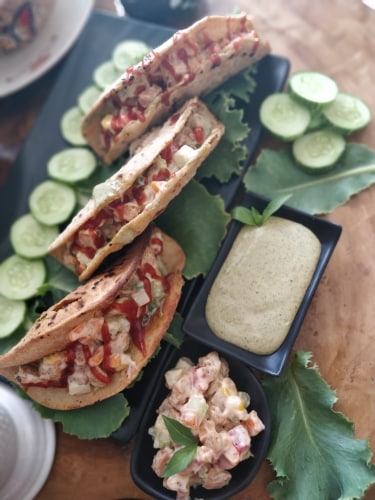 Baked Soy Veggie Taco Shells With Refreshing Mint Hung Curd
20 April, 2018
Well ...this recipe is an absolute fancy makeovers given to our humble leftover chapatis and an interesting twist comes in form of the filling that goes inside.As you all know temperatures are soaring high every day and one feels lazy to spend hours in the kitchen and... kids ...are really difficult to tackle in this weather as far as food is concerned. As a result you are left with lot of stuff which you don't feel like throwing away. Here I am to rescue you all from this issue by providing an interesting twist to our chapati.
Ingredients
Chapatis

leftover-6

Veggies all chopped you can use as many

Cucumber-2tblspn

Spring onion-1 tblspn with greens

Tomatoes-1 tblspn

Soya chunks -1 cup soaked in warm water and chopped

Bell peppers red and yellow-2 tblspn

Few mint leaves and coriander leaves

5/6 -

garlic cloves chopped

Hung curd-1 cup

Mint chutney ingredients

Mint leaves-1 bunch

Green chillies -4 nos

Garlic cloves-5/6 nos

Pomegranate seeds

anardana-1 tblspn

Sugar/jaggery/honey-1 tblspn

Salt as per taste

Spring onion-2 nos with greens
Instructions
First of all take the leftover chapatis and arrange them in the steel wire rack as shown in the pic to bake in the oven at 180 for 10/12 mnts so that they retain it's shape.

Once the shells are baked remove them from the rack when it's warm otherwise they get hard and it would be difficult to remove

Meanwhile chop all the veggies and keep aside .I preferred all veggies slightly chunky so that I feel the bite.

Heat a bit of oil in pan and saute crushed garlic and onion along with carrots ,soy chunks ,sweet corn and any other veggies of your choice except cucumber and tomatoes. To this you can add seasoning I used oregano and salt and bit of tomato ketchup

Once the veggies filling is ready .Take the hung curd and add mint chutney to it.Here if you want you can add little bit of cheese blend or mayonnaise as well to it.

To the prepared hung curd mixture add all the sauted veggies along with cucumber ,tomatoes,fresh mint or coriander leaves . This adds freshness to the entire shell.

Now take the shells and spread any kind of chutney or sauce and spoon inside the hung curd veggies mix .Top it with some more tomato ketchup.