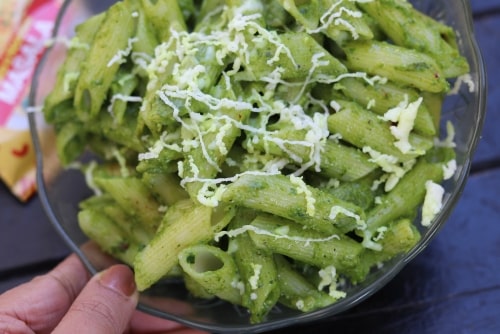 Healthy Spinach Pasta Recipe
Learn how to make simple green spinach pasta at home. Spinach pasta is healthy and easy to cook. This is a nutritious and wholesome meal where taste and flavour has been further enhanced by using Nilon's Pasta and Noodle Masala.
Ingredients
Boiled Pasta – 200 gms

Spinach – 200 gms

Processed Cheese – ¼ cup

Garlic pods – 5-6 pcs

Almonds/ Cashew nuts – ¼ cup

Oil – 2 tbsp

Salt

Black Pepper – To taste

Nilon's Pasta Noodle Masala – 2 tsp

quantity will vary as per taste

Roughly Chopped Vegetables

carrot, capsicum, broccoli, tomatoes etc – 1 cup (optional)
Instructions
In a mixer grinder jar, add fresh spinach leaves, cheese, garlic pods, nuts, oil, salt, black pepper and 1 tsp of Nilon Pasta Noodle Masala. Blend in all the ingredients into a fine smooth paste. Add little more oil, if required.

In a pan, heat little oil and sauté all the vegetables. Add in boiled pasta, freshly prepared spinach sauce, some pasta water to get little gravy and 1 tsp of Nilon's Pasta Noodle Masala

Toss the pasta for few min. Serve freshly prepared spinach pasta. Garnish with little cheese on top.