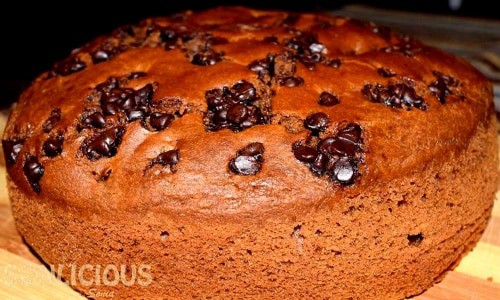 Eggless Coffee Date Cake [Whole Wheat]
6 July, 2017
Eggless coffee date cake with whole wheat Since ages coffee and date are known as perfect pair. In my today's recipe, I have used the same ever hit pair but with a healthy twist. If you have been fighting with your spouse between coffee and tea, no more fights anymore. Now you can sip your cuppa of ginger tea while having a bite of this coffee date cake. In this recipe, I have used whole wheat. I have written the benefits of whole wheat in my Multigrain sandwich bread recipe. Replacement of all-purpose flour with whole wheat flour made the cake recipe healthy. I added chopped dates. Dates has many health benefits. These are a good source of various vitamins and minerals, energy and fiber. It also contains calcium, iron, phosphorus, potassium, magnesium and zinc. Dates are free from cholesterol. Read more about benefits of dates on my whole wheat carrot date muffins recipe. These are rich with nutrient which are main building blocks for muscles. There are so many benefit of dates that one should include these in his/her daily diet. I have prepared this cake by using fresh coffee decoction. Coffee decoction is a liquid we get after straining boiled coffee grounds. In general people use coffee filter to prepare this decoction. But in case you don't have coffee filter, there is nothing to worry. You can prepare it without using any coffee filter. If you mind is asking you the question "How", read on. How to make coffee decoction at home without Coffee Filter In a pan take 3/4 cup (approximately 180 ml) water. Boil it. Add 3 tablespoons of grounded coffee powder. Boil it for 2 minutes. Cover it with lid and turn off the flame. Let it rest for 10 minutes. Cover a bowl with clean muslin cloth. Pour the prepared solution over the muslin cloth and let it strain through it. Once you get the strained solution in bowl, discard the residuals left on the muslin cloth. The coffee decoction is ready to use.
Ingredients
Wheat Four 250 gm

Brown sugar 125 gm

Oil 100 ml

Milk 250 ml

Brewed coffee/ Coffee decoction 100 ml

Dates

deseeded and chopped 18-20 pieces

Chocolate chips optional

Baking powder 1 tsp

Baking soda ½ tsp

Vanilla essence 1 tsp

Salt ¼ tsp
Instructions
In a bowl add Oil, Brown sugar, Milk, Coffee decoction and Vanilla essence. Mix it until sugar dissolves.

With the help of a sieve, sift the Whole wheat flour, Baking soda, Baking powder and Salt altogether.

Meanwhile, Put the Oven for preheating at 180 degree Celsius for about 10 minutes.

Pour the batter into a baking tin and tab it on counter to release the air bubbles. Sprinkle some chocolate chips.

Bake at 180 degree Celsius for 30 minutes or until it passes the toothpick test.

After baking for 30 minutes, take out the cake from oven.
Video
Notes
In case you don't have grounded coffee to prepare coffee decoction, then use 3 tablespoons of Instant coffee powder.
You can use white sugar instead of brown sugar.
Prefer to use fresh brewed coffee to have rich flavor of coffee in the cake.
If you prefer using eggs, skip milk and use 2 large size eggs.