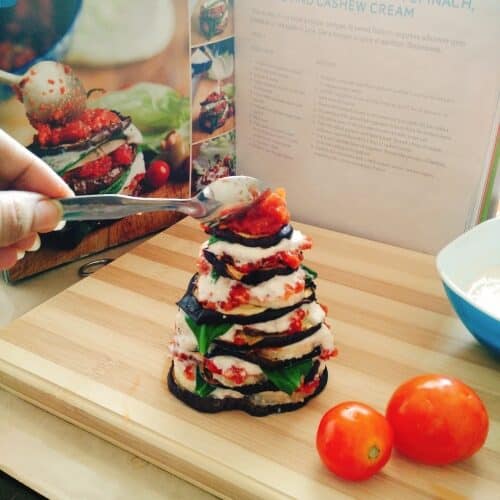 Healthy Eggplant Moussaka
Moussaka is an eggplant- (aubergine) or potato-based dish, often including ground meat, in the Balkans and Middle East, with many local and regional variations. Here I'm going to present pure veg version. In Greece, the dish is layered and typically served hot.In Turkey, it is sautéed and served in the style of a casserole, and consumed warm or at room temperature. In Arabic countries, a variant is eaten cold. Many versions have a top layer made of milk-based sauce thickened with egg (custard) or flour (béchamel sauce). This recipe of Eggplant Moissaka is absolutely guilt-free as its oil-free, sugar-free, gluten-free and dairy free (vegan) which is pure veg too! Look at this beauty of crisp eggplants with tomato milanese sauce and savoury cashew cream which is making the dish very rich in taste and texture! It would never fail to impress whoever gets the taste of it, it's absolutely yumm! Have made this recipe jain (no onion, no garlic, no potato)
Ingredients
Tomato Milanese Sauce:

5

 medium sized tomatoes

finely chopped

1

tbsp

dried/fresh oregano

1/2

tsp

crushed pepper

Salt to taste

Savoury Cashew Cream:

1

cup

cashews

soaked for 3-4 hrs, drained

Water as required to get creamy consistency

Salt to taste

Eggplant Moussaka Main Ingredients:

2

large round eggplant

sliced into 3/4 cm thick rounds

10-12

spinach leaves

2

medium sized raw bananas

boiled, sliced into 1/2 cm rounds

1

cup

tomato milanese sauce

1

cup

savoury cashew cream

Salt to taste

1/2

cup

green olives
Instructions
Tomato Milanese Sauce:

Into nonstick pan, add tomatoes and allow them to cook for 10 minutes till the consistency forms a paste.

Add pepper, oregano and salt to taste. Mix it well and keep it aside.

Savoury Cashew Cream:

Grind the cashews with a little salt and 1 tbsp water, or as needed to move the blades.

Grind to a fine, smooth creamy paste. Keep it aside.

Eggplant Moussaka Preparation:

Sprinkle some salt over the eggplants and let ot rest for 30 minutes to release the excess water.

Grill the eggplant slices on high heat, at 220 degrees, for 15 minutes on each side till it turns brown.

Blanch the spinach leaves in hot water for 5 seconds till just wilted.

In a serving dish, spread the eggplant slices to form the bottom layer.

Now add a layer of sliced raw bananas and sprinkle some salt.

Take wilted spinach and layer it next.

Spread 1 tbsp of tomato milanese sauce followed by 1 tbsp of savoury cashew cream.

Top it with another layer of eggplant. Repeat the process of layering as above ending with eggplant on top.

Garnish the moussaka with little tomato milanese sauce, cashew cream, and some green olives.

Serve hot as a snacks or side dish in your party menu, your guests would really impressed with presentation as well as taste without any guilt!