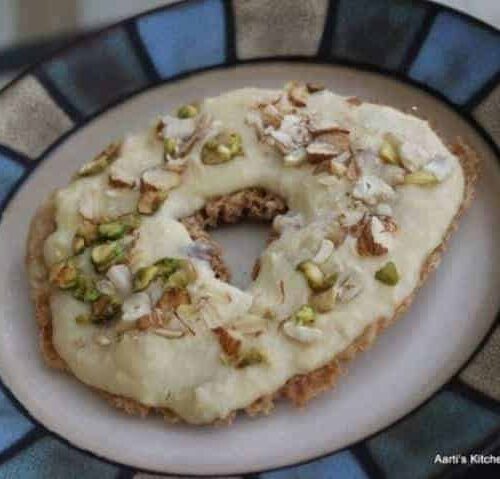 Ghevar
Ingredients
Sugar – 2 Cups for sugar syrup and ½ to ¾ Cup for Rabdi

Water – 1 Cup

Green Cardamom Powder – ¼ tsp for sugar syrup and 1/2 tsp for rabdi

Saffron – Few Strands

optional

Milk –1 Ltr.

Pistachios – 2 tbsp

chopped

Almonds – 2 tbsp

chopped

Mawa/Khoya – 1 Cup

Grated

All Purpose Flour

Maida – 1 Cup

Cold Milk – ¼ Cup

Ice Cold Water – Around 2 Cups

Ghee – 1 ½ tbsp. for batter

Ghee – to deep fry

Lime Juice – ½ tsp

For Garnishing : Pistachios – 2 tbsp

sliced, Almonds – 2 tbsp (sliced), Saffron - Few Strands (optional)
Instructions
For Sugar Syrup : Heat pan and add sugar, water, green cardamom powder, saffron strands and make one thread sugar syrup.

For Rabdi : Take a heavy bottom pan and add milk. Keep stirring on low heat. Stir it till the quantity reduced to its half.

Add cardamom powder, mawa, sugar and stir it for 6-8 mins.

Add pistachios and almonds and cook it for 1-2 mins.

For Ghevar : Take 1 ½ melted ghee, 2 tbsp ice cold water, 2 tbsp milk in a large bowl and mix well till it looks like cream. Now add the remaining milk and mix.

Once it is done add all purpose flour slowly and keep mixing it.

Now add water little by little and mix the dough continuously and make a lump free and smooth batter. Add lime juice and mix it.

Heat ghee on high flame in a heavy round deep vessel. Heat till it get smokes.

Now take 1 tbsp of batter and pour it in the middle of the vessel from 6-8 inches height. 

After it wait for 1-2 mins till the bubbles settle and then again pour 1 tbsp of batter. Again wait till the bubbles settle.

Repeat this for 3-4 times. If your vessel is bigger in size so you have to add more spoonful of batter. If you see the batter is sticking in the middle use a thin rod to detach that.

Once its slightly more than golden and properly fried, take it out very carefully with the help of the rod.

Keep the ghevar over the small round bowl to remove the excess ghee.

For Garnishing : Dip the ghevar in the hot sugar syrup with the help of the rod and take it out. Again keep the ghevar over the small round bowl to remove the excess syrup.

Let the ghevar to get dry. It will take around an hour.

Apply a coat of rabdi. Sprinkle sliced almonds, pistachios and saffron over it.