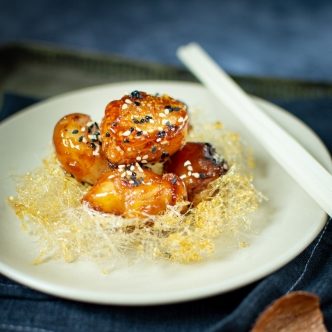 Lychee Sesame Toffees ( Vegan Desserts)
7 June, 2018
Juicy and sweet, lychees are truly a tropical delight. This recipe transforms and elevates lychees to the next level of yumminess with the addition of caramel and yet another tropical staple aka sesame. I first came across this dish in a small Thai restaurant back in 2008. But it left an indelible impact on my taste buds and today i recreated this for my son.
Ingredients
12

Lychees

deseeded or canned

1/2

cup

self raising flour

1/3

cup

soda water

A pinch of salt

300

ml

vegetable oil for deep frying

For the toffee - 1 cup sugar

4-5

tsp

of water

2

tsp

of roasted sesame seeds
Instructions
Take the self raising flour and salt in a mixing bowl. Add the soda water and whisk to to form a thin batter.

Heat the vegetable oil in a fryer till it just about becomes smoking hot.

Dip the lychees in the batter and put in the hot oil in two batches.

Fry to a light golden, remove and drain on kitchen towels.

Take the sugar in a thick bottomed saucepan and add 4-5 teaspoons of water to

Place the saucepan on a medium flame and mix the water and sugar mixture till it turns liquid.

Turn up the flame a bit and keep a watch on the sugar syrup without disturbing it . Once it acquired a golden color, the caramelization picks up real fast.

Once the color is light brown, remove the saucepan from the flame. Immerse the bottom in a bowl of water to stop the sugar from further caramelization.

Pick the fried lychees using bamboo skewers or forks. Dip in the caramel, remove and keep on a baking sheet.

Sprinkle with toasted sesame seeds. Leave aside till they cool down.

Serve immediately.
Notes
I have used baking sheet as these toffees are sticky and very hot because of the caramel.
Also,  these cannot be stored for longer period as they tend to absorb moisture and turn soggy .